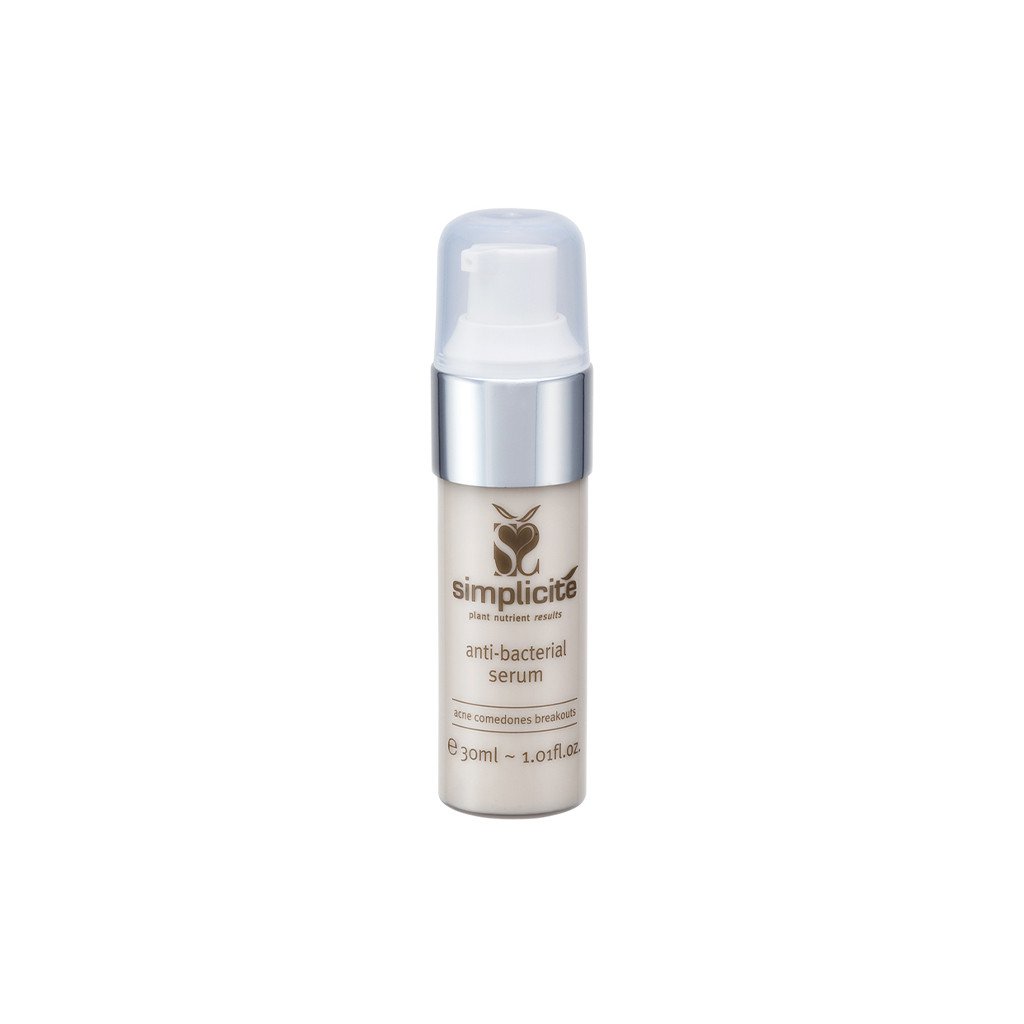 ACNE ANTI-BACTERIAL SERUM
A powerful acne treatment that doesn't dry out skin. Also effective for acne rosacea. 

"The Anti-Bacterial Serum prevents breakouts and gets rid of your existing ones. I love how powerful it is, yet it is still so gentle on the skin."
See all reviews below.
Acne Anti-Bacterial Serum reduces acne redness and swelling and stops bacteria spreading.
30ml
Features:
Thyme 

-

 

laboratory research

 

conducted at Leeds Metropolitan University in the UK in 2012 shows thyme essential oil is more effective against acne bacteria than benzoyl peroxide.

Alfalfa

 - reduces redness and assists with hormonally induced acne.

Echinacea

 -

 

speeds healing, helps to decrease swelling and redness.
How to Use
Apply 1-2 pumps on a clean cotton pad and wipe this very firmly over face and neck, taking care to cover the hairline and affected areas. (Wiping firmly helps to 'push' this bacteria-killing serum through the keratin layer to the pores where it can be most effective.

Wait one minute and follow with Sage Face Oil and moisturiser.
Advice
Always apply to well-exfoliated skin. An extra cleanse and application of serum in the afternoon after work/school can make all the difference to results. Use Acne Anti-Bacterial Serum under nutritive masksfor enhanced results. 
See suggested skin routine for Acne and Breakouts.
WATCH VIDEO
Ingredients
Thyme Extract (Australia), Alfalfa Leaf Ext (Australia), Echinacea Purpurea Root Ext (USA), Equisetum Herbal Ext (Albania), Rosemary (Tunisia), Melaleuca Leaf Ext (Australia), Cypress Leaf Ext (Spain), Niaouli (Madagascar), Radish Root Extract, Sambucus Nigra Fruit Ext, Gluconolactone (found naturally in fruit), Sodium Benzoate and Potassium Sorbate (both food preservatives) 
Green denotes the nutritive, active herbal ingredients. These are either certified organic or wild grown. All plant extracts are freshly made in our laboratory. 
Ideal for Combination/Dry, Oily and Breakout Skin (including with surface dryness):
Plant Gel Cleanser(Comb Oily Skin) 30mLOne Step Exfoliating Cleanser 20gHydrating Floral Toning Lotion30mLSage Face Oil20mLOil Controlled Day Creme20gLemon Night Creme 20g
True to the Simplicité range these Trial Pack products are natural and organic—but they're also highly effective.These combinations of freshly extracted, medicinal grade plant extracts and thoughtful formulas for skin types will leave your skin feeling good and wanting more.
"Best start pack I have ever used! Best thing is you have a sample pack to try that lasts for 1 month approximately and actually works. This little pack changed my life."