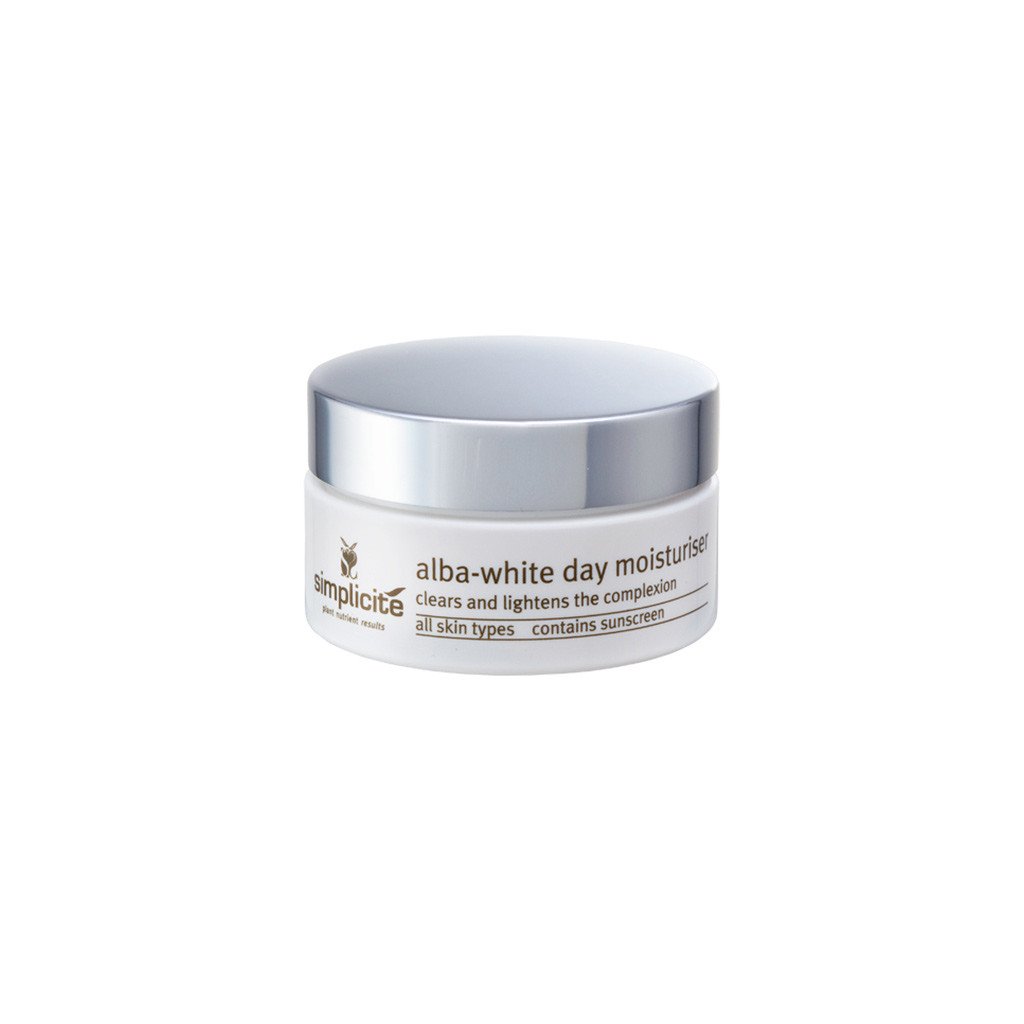 ALBA WHITE DAY MOISTURISER
A soothing everyday moisturiser with SPF10 sunscreen that works extra hard to reduce hyperpigmentation (including pregnancy Melasma) - without the use of harsh ingredients. Alba White is a simple, natural antidote for skin that's patchy or unnaturally darkened. It evens skin tone plus brightens, lightens and hydrates.

Important: please watch the video below for how to apply this product.
55g
Features

Green tea

 

– contains antioxidants that reduce the size of melanin cells and creates a reduction in the strength of pigment colour.
Camellia – repairs sun damage.
Bearberry

 

– whitens the skin.
Causes of hyperpigmentation
Helps to even out patches of skin that have become hyperpigmented from sun damage, wearing poorly formulated sunscreens, hormonal effects of pregnancy, use of the contraceptive pill, applying perfume.
Proven results in reducing and eliminating melasma (brown skin patches that can appear on the face during pregnancy).
How to Use
Warm moisturiser between fingertips a little, then pat onto skin. Massage gently over the face, neck and upper chest. (And if you're looking for a nutritive under-eye concealer and highlighter, use a dab over your foundation.)
Advice
Always apply to well exfoliated skin and prep first with our Face Oil. If Alba White Day Moisturiser catches on any areas of skin, try exfoliating more regularly. Our recommendation is to use One Step Exfoliating Cleanser nightly at least five to six times per week.
WATCH VIDEO
Ingredients
Australia Bush Flowers Banksia  Morning Glory and Flannel Flower Water Extract, Glyceryl Stearate (sustainable palm source), Camellia Extract (Japan), Ceteareth 20 (white of coconut source), Arctostaphylos Uva-Ursi (Bearberry) Ext, Green Tea Ext,  Fumitory Herb Ext, Microfine Titanium Dioxide (not nano-particle), Niaouli Ext (Madagasgar), Grapefruit Ext (USA),  Lavender Ext (France), Bergamot Ext (Italy), Mandarin Ext (Australia), Rose Geranium (Kenya), Natural Vitamin E  Radish Root Ferment  Sambucus Nigra Fruit Ext, Gluconolactone (found naturally in fruit), Sodium Benzoate and Potassium Sorbate (both food preservatives)
Green denotes the nutritive, active herbal ingredients. These are either certified organic or wild grown. All plant extracts are freshly made in our laboratory. 
Ideal for Combination/Dry, Oily and Breakout Skin (including with surface dryness):
Plant Gel Cleanser(Comb Oily Skin) 30mLOne Step Exfoliating Cleanser 20gHydrating Floral Toning Lotion30mLSage Face Oil20mLOil Controlled Day Creme20gLemon Night Creme 20g
True to the Simplicité range these Trial Pack products are natural and organic—but they're also highly effective.These combinations of freshly extracted, medicinal grade plant extracts and thoughtful formulas for skin types will leave your skin feeling good and wanting more.
"Best start pack I have ever used! Best thing is you have a sample pack to try that lasts for 1 month approximately and actually works. This little pack changed my life."