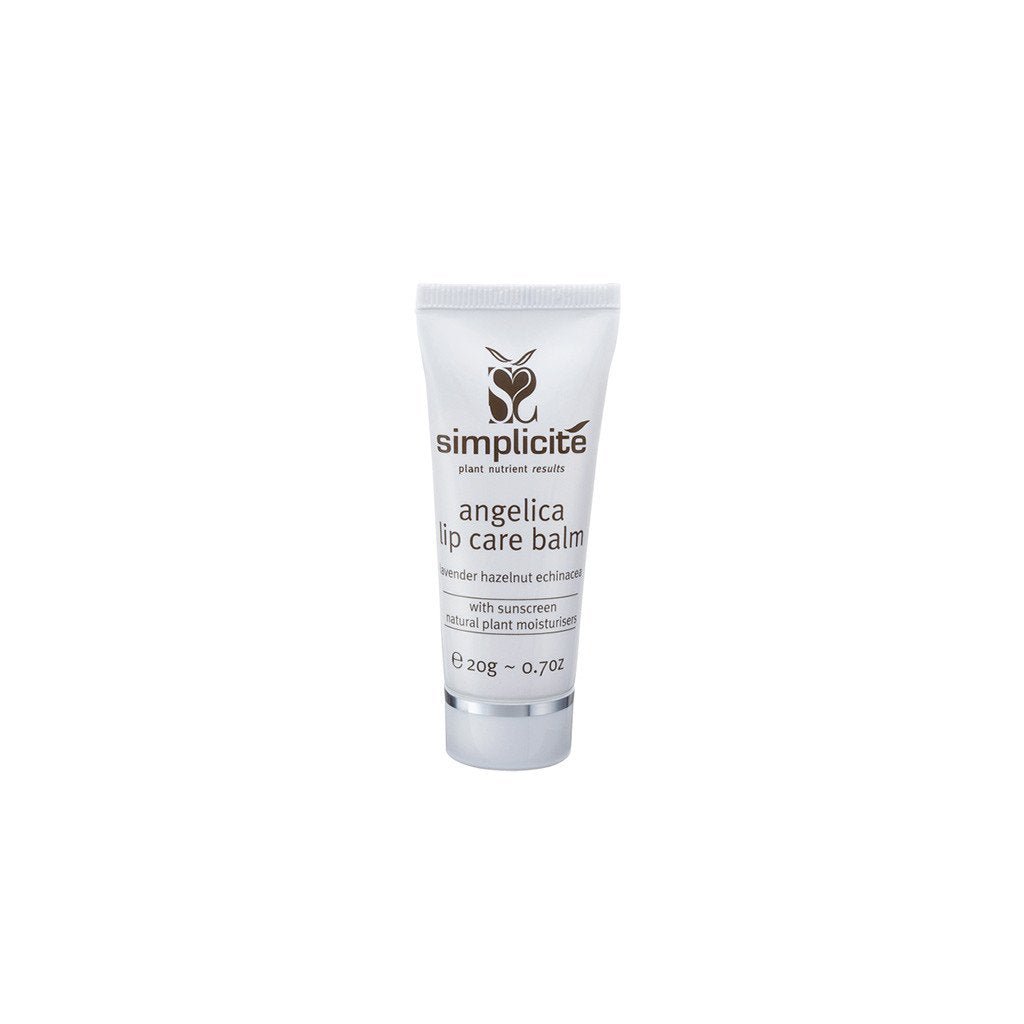 A rich creamy balm that deeply moisturises and soothes chapped dry lips. It is also a powerful, natural antidote for cold sore symptoms. Contains SPF10 sunscreen.
20g
Features
Avocado 

– enhances deep moisture levels.
Green Oats – hydrates skin dried by the elements; helps reduce signs of premature ageing.
Angelica & Echinacea – are active against the Herpes 'cold sore' virus, inhibit spread of bacteria though cell walls.
Benefits
Reduces the appearance of fine lines, restores softness.
Soothes chapped, dry lips and protects from further damage.
Use as a nutritive and soothing lipstick base.
Aids in prevention and treatment of cold sores.
How to Use 
Apply twice daily for normal sun or cold weather protection, more often if treating cracked, dry lips. For herpes simplex ((coldsore) conditions, best results when applied as soon as the first 'tingle' is felt. Apply thickly over affected area without rubbing in.
Advice
When applying Angelica Lip Care Balm to cracked lips a slight tingling may be felt for a minute or two as the concentrated plant extracts infuse the damaged area. 
Ingredients
Purified Water, Capric/Caprylic Triglycerides (sustainable coconut source), Avocado Extract (Australia), Self Emulsifying Wax (sustainable coconut source, Rosehip Extract (Chile), Hazelnut Ext, Rice Bran Ext (Japan), Evening Primrose, Angelica, Echinacea, Green Oats, Olive Leaf, Australian Bush Flowers: Mulla Mulla, Spinifex, Flannel Flower; Palmarosa, Lavender Ext (France), Natural Vitamin E, Microfine Titanium Dioxide, Gluconolactone (found naturally in fruit)
Green denotes the nutritive, active herbal ingredients. These are either certified organic or wild grown. All plant extracts are freshly made in our laboratory.
Ideal for Combination/Dry, Oily and Breakout Skin (including with surface dryness):
Plant Gel Cleanser(Comb Oily Skin) 30mLOne Step Exfoliating Cleanser 20gHydrating Floral Toning Lotion30mLSage Face Oil20mLOil Controlled Day Creme20gLemon Night Creme 20g
True to the Simplicité range these Trial Pack products are natural and organic—but they're also highly effective.These combinations of freshly extracted, medicinal grade plant extracts and thoughtful formulas for skin types will leave your skin feeling good and wanting more.
"Best start pack I have ever used! Best thing is you have a sample pack to try that lasts for 1 month approximately and actually works. This little pack changed my life."