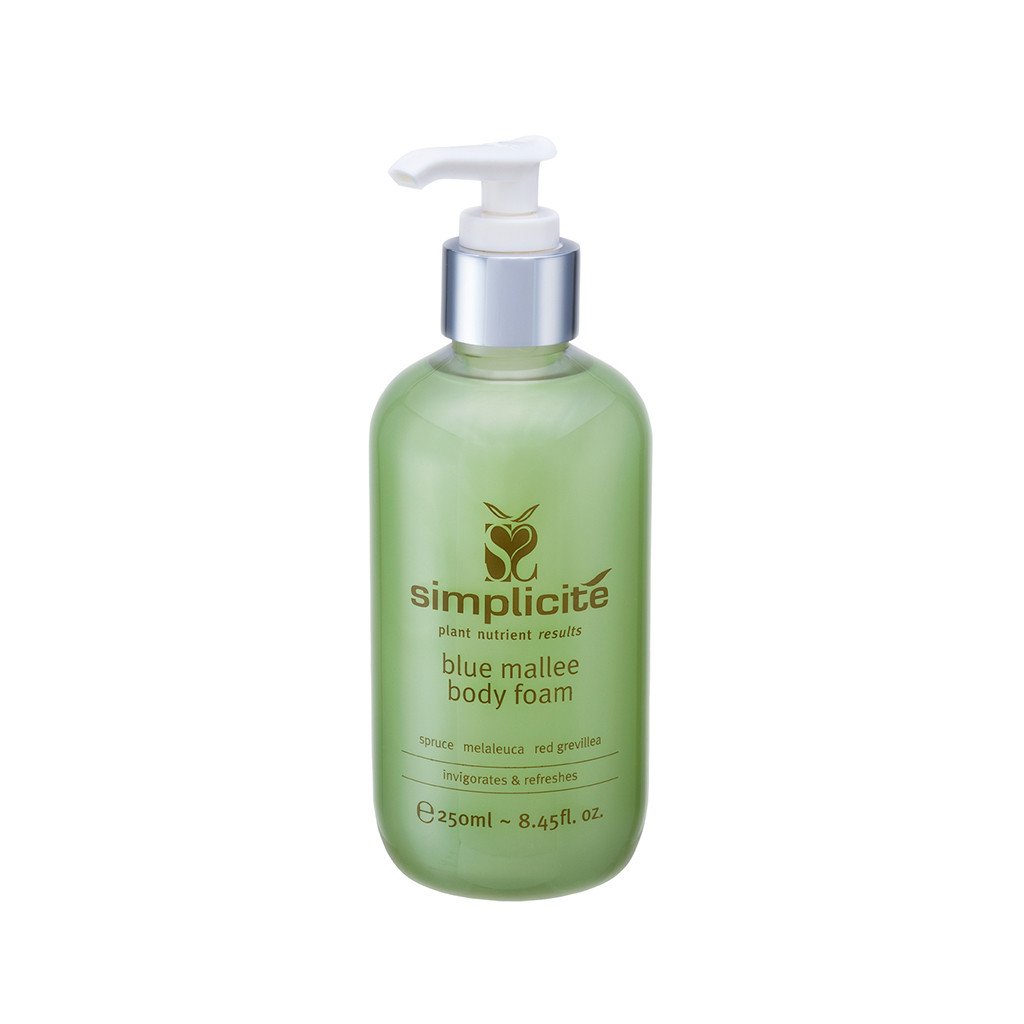 BLUE MALLEE BATH AND SHOWER FOAM
A moisturising body wash for sensitive skin that refreshes, tones and firms with every use. Perfect for all skin types, it is incredibly gentle - beneficial for the most sensitive skin including newborn babies. Simplicité's highly concentrated natural and certified organic plant extracts achieve incredible results for skin.  This body wash is a must have for anyone wanting to achieve firmer and refreshed skin.
250mL
Features
Blue Mallee Eucalyptus

 

– deodorising and encourages the removal of toxins not just from the skin but also throughout the system.
Huon Pine/Cypress

 

– traditionally used in soothing baths for nervous exhaustion, to improve circulation and to help many skin conditions.
Melaleuca Tea-Tree

 

- assists healing, anti-fungal, anti-infectious. One of the earliest remedies used by Australian aborigines.
Benefits
Invigorating, deodorising, refreshing.
Gentle and non-drying to the skin.
Fights odour.
How to Use
Apply to moistened skin whilst showering.

Ideal as a nutritive, non-drying hand wash.

Use in baby's bath.
Ingredients
Ammonium Laureth Sulfate and Coco Betaine (both sourced from coconuts not petrochemicals), Freshly extracted Aloe Barbadensis juice from Qld (not the usual lifeless powder from China), Avocado Ext (Australia), Jojoba Ext (Argentina), Australia Bush Flowers: Blue Mallee, Eucalyptus, Melaleuca (Ti-Tree); Spruce, Lavender Ext (France), Australia Bush Flowers: Red Grevillea, She Oak, Crimson Bottlebrush; Natural Vitamin E, Gluconolactone (found naturally in fruit), Chlorophyll

Green denotes the nutritive, active herbal ingredients. These are either certified organic or wild grown. We freshly make all our plant extracts. We don't buy commercial liquid 'plant extracts' or commercial lifeless dried and powdered herbs to make extracts.
Ideal for Combination/Dry, Oily and Breakout Skin (including with surface dryness):
Plant Gel Cleanser(Comb Oily Skin) 30mLOne Step Exfoliating Cleanser 20gHydrating Floral Toning Lotion30mLSage Face Oil20mLOil Controlled Day Creme20gLemon Night Creme 20g
True to the Simplicité range these Trial Pack products are natural and organic—but they're also highly effective.These combinations of freshly extracted, medicinal grade plant extracts and thoughtful formulas for skin types will leave your skin feeling good and wanting more.
"Best start pack I have ever used! Best thing is you have a sample pack to try that lasts for 1 month approximately and actually works. This little pack changed my life."