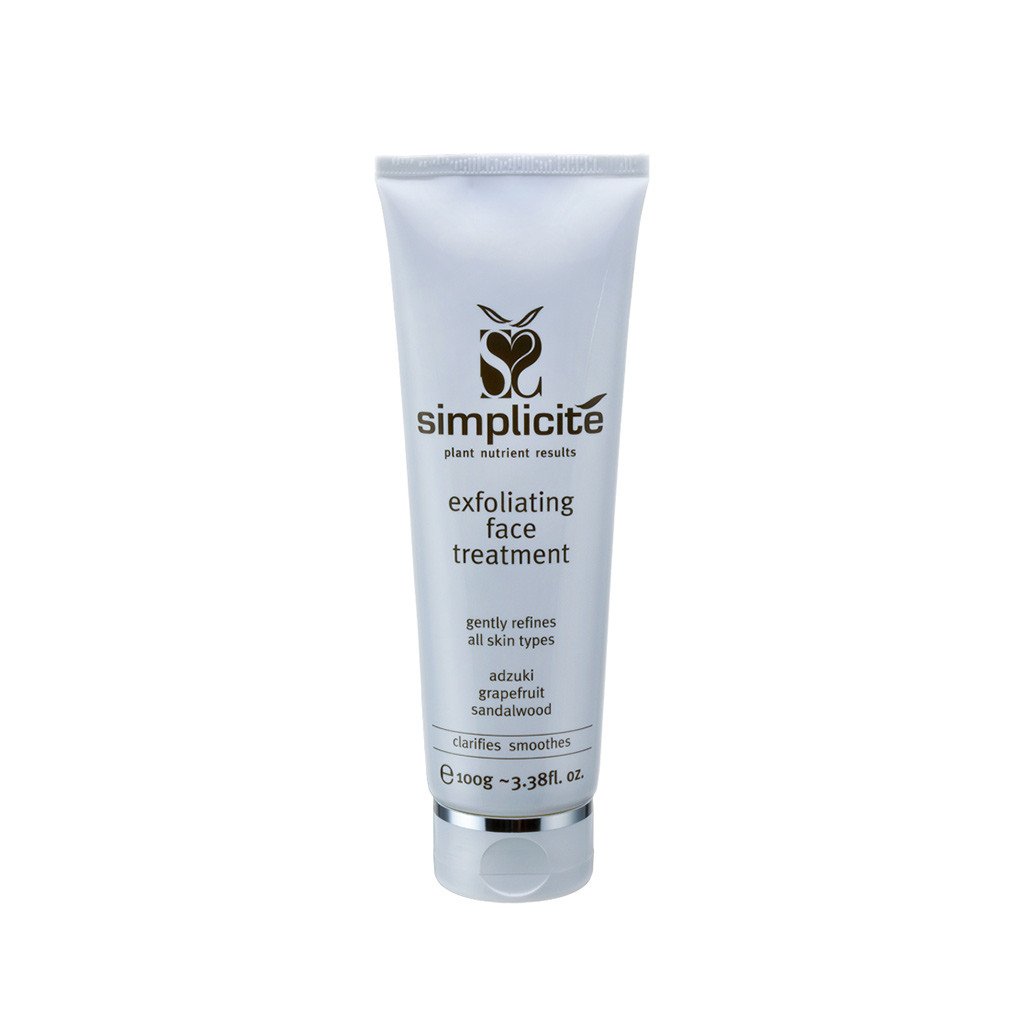 EXFOLIATING FACE TREATMENT
An advanced formula enzyme-active gentle exfoliator/mask that 'lifts' dead cells through the plant enzyme action of freshly ground herbs, seeds and flowers. Multi-use. Reduces redness, calms inflammation, plumps and tightens skin. 
"An absolute wonder product! Has multiple uses - I followed the advice from Simplicité and used it as a mask over a serum and got amazing results." 
Jo
Read more reviews below.
100g
Features
Adzuki

 

– rich in plant enzymes and essential fatty acids that contribute to skin health
Grapefruit

 

– reduces congestion and oiliness, tones and firms top layer of the skin
Sandalwood

 

– helps to reduce redness of various skin conditions, encourages skin renewal.
Benefits
Gives skin a younger-looking smooth appearance.
Plumps and tightens.
Reduces redness.

Calms inflammation.
How to Use 
Method 1: Everyday gentle exfoliator
Massage onto face for at least 30 seconds or longer when in shower; leave on for as long as possible before washing off. For best results don't overly dilute with water. 
Method 2: Plumping, firming face pack
First apply a Simplicité serum and face oil.

Apply a thick even layer of Exfoliating Face Treatment to face, neck and décolletage.

Massage gently for 1-2 mins then leave on for 10-20 minutes or longer. Wash off. 

Temporary skin pinkness may sometimes occur for 10-20 mins.
Method 3: 'Drawing' treatment for pimples and acne areas
Apply thickly to pimples and acne areas, leave in place for 20-30 mins or as long as several hours to encourage healing and to reduce redness and inflammation. 

For best results apply over Acne Anti-Bacterial Serum. 

TIP: Best way to remove this treatment is in the shower, using a little One Step Exfoliating Cleanser. 

Temporary skin pinkness may sometimes occur for 10-20 mins.
Ingredients
Purified Water, Australian Almond, Kaolin, Linseed, Australian Sweet Almond Ext, freshly extracted organic Aloe Barbadensis juice from Qld (not the lifeless dried powder from China), Lavender (France), Sage (Spain), Rosemary (Tunisia), Sandalwood (Western Australia), Calendula Flower Ext (Australia), Grapefruit (USA), Rose Geranium (Kenya), Natural Vitamin E, Lavender Flowers, Chamomile Flowers, Potassium Sorbate, Gluconolactone (found naturally in fruit)
Green denotes the nutritive, active herbal ingredients. These are either certified organic or wild grown. We freshly make all our plant extracts. We don't buy commercial liquid 'plant extracts' or commercial lifeless dried and powdered herbs to make extracts. 
Ideal for Combination/Dry, Oily and Breakout Skin (including with surface dryness):
Plant Gel Cleanser(Comb Oily Skin) 30mLOne Step Exfoliating Cleanser 20gHydrating Floral Toning Lotion30mLSage Face Oil20mLOil Controlled Day Creme20gLemon Night Creme 20g
True to the Simplicité range these Trial Pack products are natural and organic—but they're also highly effective.These combinations of freshly extracted, medicinal grade plant extracts and thoughtful formulas for skin types will leave your skin feeling good and wanting more.
"Best start pack I have ever used! Best thing is you have a sample pack to try that lasts for 1 month approximately and actually works. This little pack changed my life."