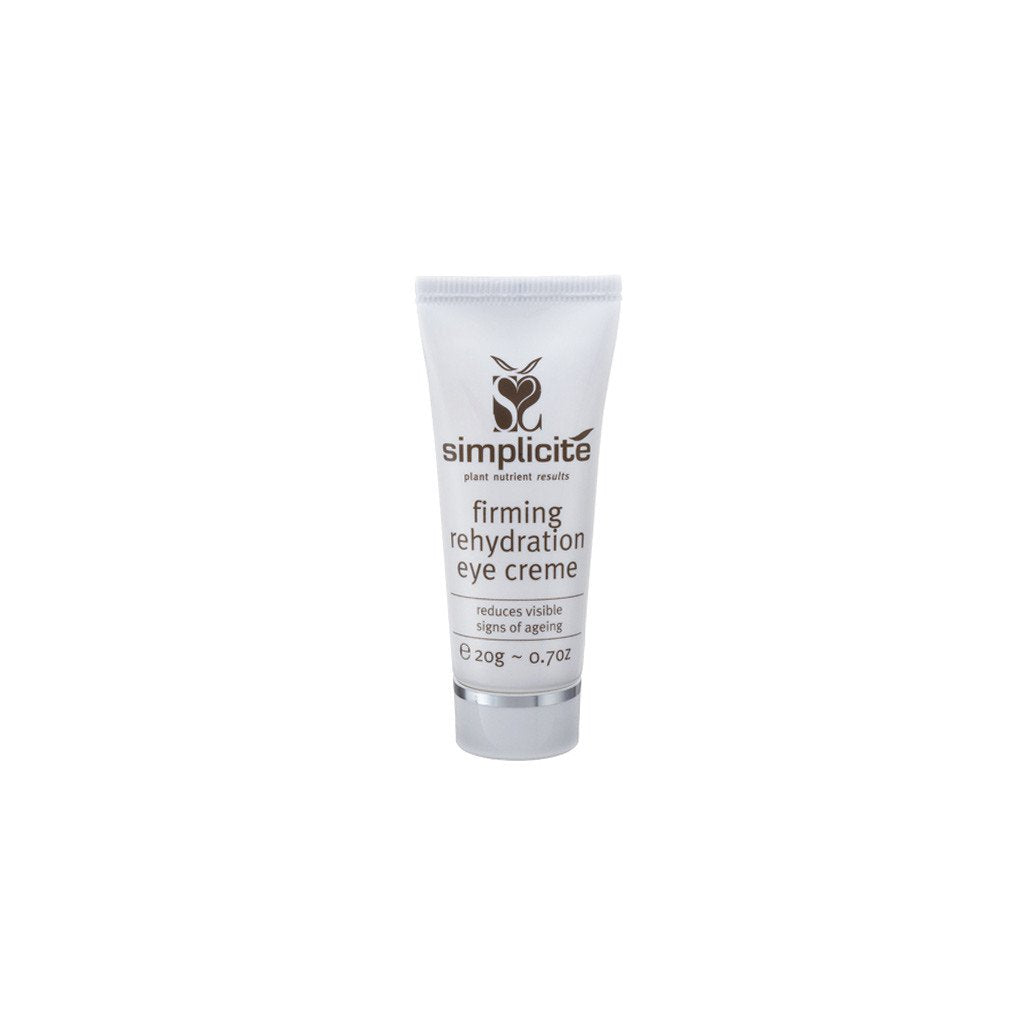 FIRMING REHYDRATION EYE CREME
This soothing and refreshing eye cream hydrates, tones and firms the delicate tissue around the eye. It is light and non greasy and won't irritate sensitive eyes.
"I'm very happy and satisfied with this eye cream. I can definitely see results after using it twice a day for a few weeks. Less fine lines. Totally recommend it.."
See more Reviews below.
20g
Features:

Fresh Cucumber juice - reduces redness, improves darkness under the eyes. Cools, tones and firms. 
Fresh Eyebright extract

 

- traditionally used to soothe and freshen the eyes.
Australian Bush-flower Bush Iris

 

- improves elasticity, tone and hydration. 
Benefits
Refreshes and firms delicate eye area skin.

Doesn't sting or irritate.

Can be applied over entire eye area.
Contributes to improved eyelash growth.
Made without alcohol or fragrance.
How to Use
Apply a.m. and p.m. after applying nutritive moisturiser;.

Apply additionally if eyes are tired or feeling irritated.
Using the tips of both fourth fingers smooth the creme gently above and beneath eyes.
WATCH VIDEO
Ingredients
Purified Water, Cocos Nucifera Glycerides (sustainable coconut source), Wheatgerm Extract (USA), Self-Emulsifying Plant Lipids (sustainable plant source), Fresh Rose Petal Ext, Eyebright Extract, Cucumber Ext (Australia), Arnica Ext, Jojoba Ext (Argentina), Bush Iris Ext (Australia), Palmarosa Ext, Chamomile Ext (France), Daisy Ext, Sandalwood Ext (Western Australia), Elderflower Ext, Natural Vitamin E, Gluconolactone (found naturally in fruit) 
Green denotes the nutritive, active herbal ingredients. These are either certified organic or wild grown. We freshly make all our plant extracts. We don't buy commercial liquid 'plant extracts' or commercial lifeless dried and powdered herbs to make extracts.
Ideal for Combination/Dry, Oily and Breakout Skin (including with surface dryness):
Plant Gel Cleanser(Comb Oily Skin) 30mLOne Step Exfoliating Cleanser 20gHydrating Floral Toning Lotion30mLSage Face Oil20mLOil Controlled Day Creme20gLemon Night Creme 20g
True to the Simplicité range these Trial Pack products are natural and organic—but they're also highly effective.These combinations of freshly extracted, medicinal grade plant extracts and thoughtful formulas for skin types will leave your skin feeling good and wanting more.
"Best start pack I have ever used! Best thing is you have a sample pack to try that lasts for 1 month approximately and actually works. This little pack changed my life."