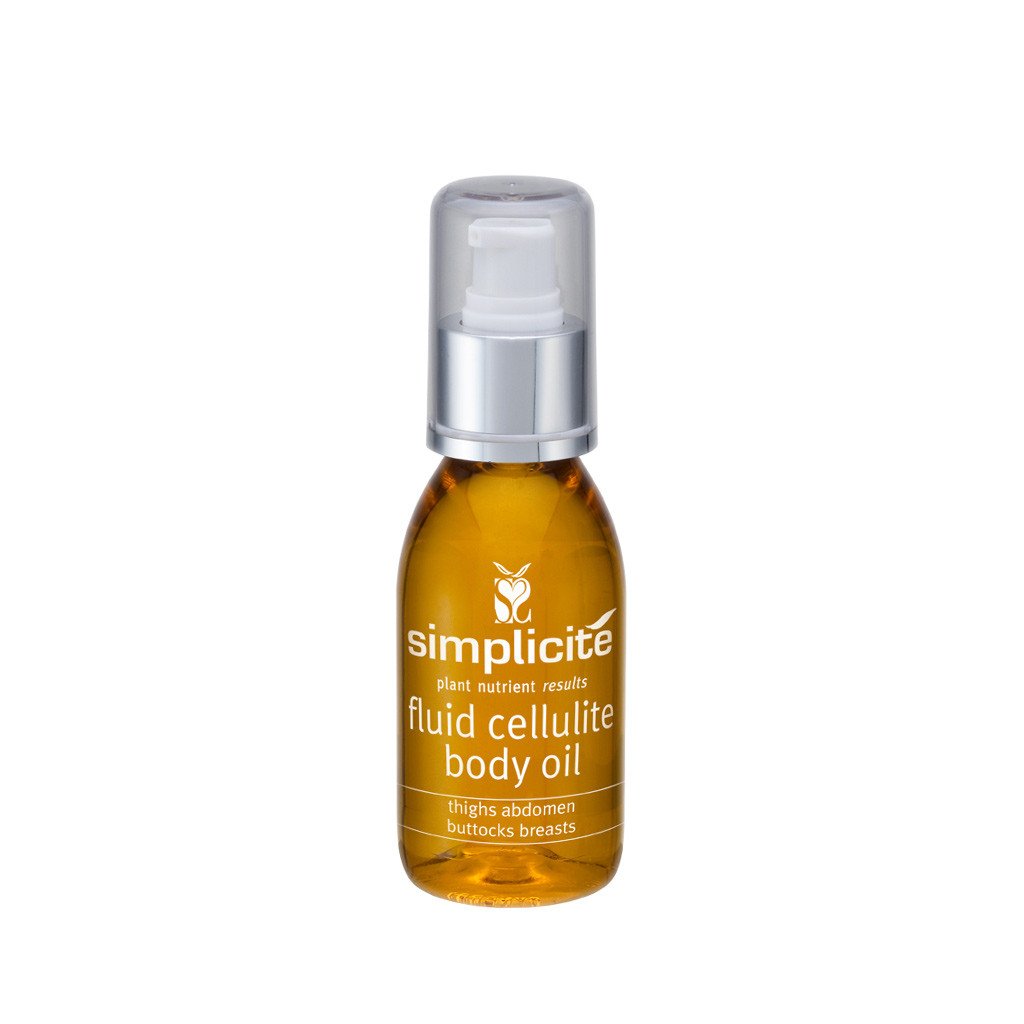 Regular use of Simplicité Fluid Cellulite Oil is the best way to get rid of cellulite because the high quality and concentrated extracts it contains encourages the removal of excess fluid from the body. So many women ask 'Can you get rid of cellulite'; the answer is yes.

Naturopath David Lyons originally formulated Fluid Cellulite Oil to remove fluid build-up in the affected arm of his women patients who had been through mastectomy and radiation therapy.
As well as helping to reduce cellulite, Fluid Cellulite Oil contains plant actives that help reduce sun damage. It is also deeply hydrating, soothing and softening.

"I was very sceptical at first as I have tried many products…only to be left disappointed. But, after about two weeks of first skin brushing and then applying this oil to my upper thighs I was left eating my words. This product has removed practically all traces of cellulite from my body."
Megan S.
"Huge, huge fan of this product. Have just finished my first bottle and can already notice a difference in my thighs."
Emma
See all reviews below.
100mL
Features
Juniper

 

- diuretic (helps the body expel excess fluid), promotes elasticity and suppleness.
Cypress

 

- diuretic, tones and improves the look of skin.
Myrtle Tree

 

- diuretic, improves circulation.
Benefits

Significantly improves cellulite problems by toning weakened valves in the lymph vessels, removing toxins and balancing fluid in the tissues.
Greatly improves mastitis or 'lumpy' breasts around period time.
Reduces puffy ankles during pregnancy - massage over ankles in an upward direction.
Stops or greatly reduces limb swelling during long flights – apply before and during the flight.
The best way to get rid of cellulite
Once daily, use

 

Sisal Body Brush

 

on dry skin, moving it in firm, upward motions over thighs, buttocks and stomach.
Twice daily apply a couple of pumps of Fluid Cellulite Body Oil (with wet hands) to the above areas. Massage oil into skin using firm upward motions.
Follow with

 

Nutritive Body Lotion

 

for extra skin firming and hydration (or save time by mixing in palm and using together.
Ingredients
Sweet Almond Extract (Australia), Apricot Kernel Ext (Australia), Wheatgerm Ext (USA), Jojoba (Argentina), Juniper (India), Cypress (Spain), Marjoram (Spain), Grapefruit (USA), Myrtle Tree (Albania), Celery Seed (Germany)
Green denotes nutritive, active herbal ingredients. These are either certified organic or wild-grown. Preservative free. Naturally stable for three years due to high antioxidant levels and a caring passion for what we make.
Ideal for Combination/Dry, Oily and Breakout Skin (including with surface dryness):
Plant Gel Cleanser(Comb Oily Skin) 30mLOne Step Exfoliating Cleanser 20gHydrating Floral Toning Lotion30mLSage Face Oil20mLOil Controlled Day Creme20gLemon Night Creme 20g
True to the Simplicité range these Trial Pack products are natural and organic—but they're also highly effective.These combinations of freshly extracted, medicinal grade plant extracts and thoughtful formulas for skin types will leave your skin feeling good and wanting more.
"Best start pack I have ever used! Best thing is you have a sample pack to try that lasts for 1 month approximately and actually works. This little pack changed my life."