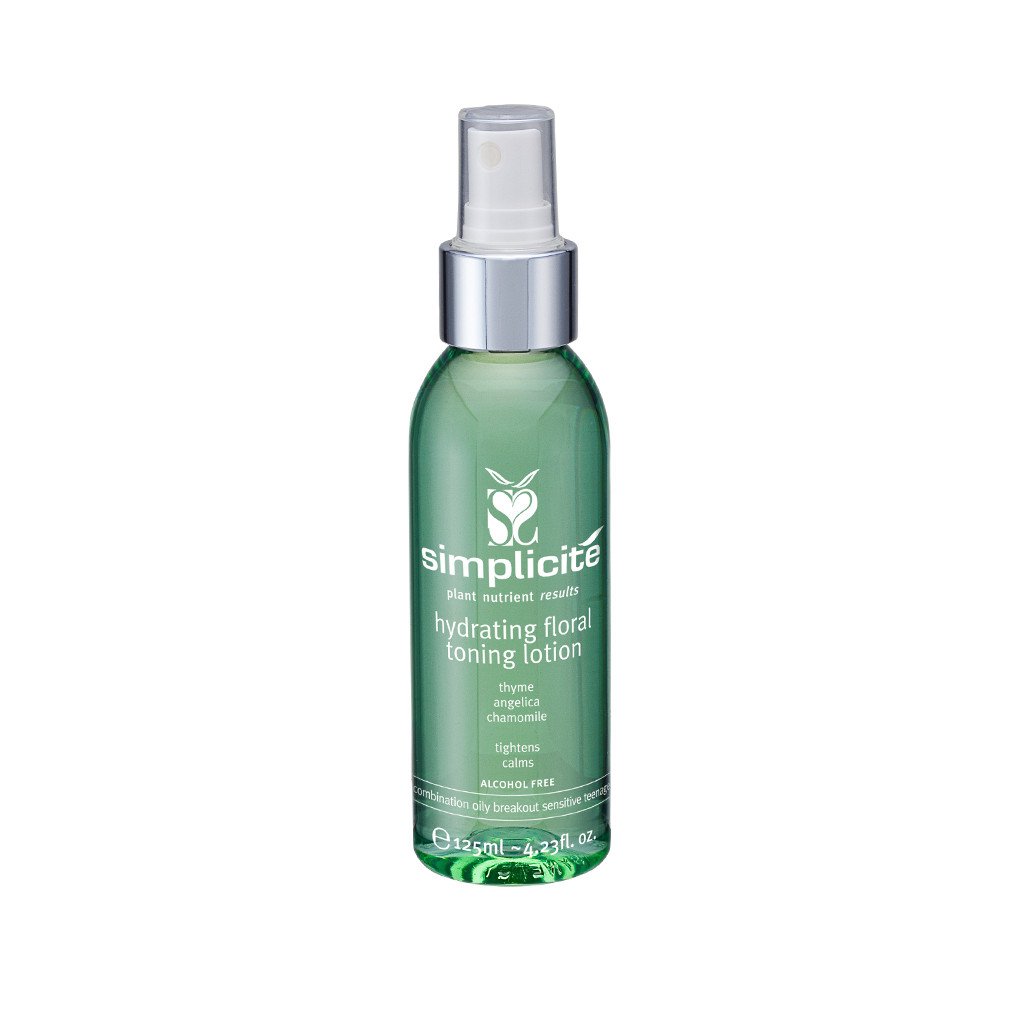 HYDRATING FLORAL TONING LOTION COMBINATION/OILY 125ML
A facial toning spray formulated for combination/dry, oily skin. It is infused with extracts of fresh herbs and flowers to hydrate, refresh and calm skin. It contains natural plant saponins that help with absorption of nutrients in Simplicité Face Oils and the Serum concentrates.
"I thought surely a toner couldn't be that much different. I was so happy to be wrong!"
Our products and their results speak for themselves, read more Reviews below!
Features
Thyme – gently antiseptic and astringent, calms irritation..
Angelica

 

- firms and tones skin
Chamomile

 

– soothes; reduces inflammation and improves the appearance of sun damaged skin
and nine other freshly extracted medicinal grade plants and herbs.
Benefits
Gives a weightless silky feel and noticeable radiance boost. 
Has an intoxicating subtle floral scent that doesn't linger.

Alcohol-free formula is non-drying plus ideal for sensitive skin.
How to Use 
After cleansing, spray over face, neck and décolletage

Keep eyes closed whilst spraying and for another 5 seconds afterward.

Use with Simplicité face oils and serums to help absorption - spray onto face or into hand.

Use at 

any time to refresh and nurture skin.
Ingredients
Purified water, Fresh Lavender Extract (France), Fresh Rose Petal Ext (Australia), freshly extracted organic Aloe Vera Barbadensis juice (not the lifeless dried powder from China), Fresh Witch Hazel Ext (not the clear, alcohol-based version), Fresh Chamomile Ext (France), Fresh Cornsilk Ext (Egypt), Fresh Angelica Ext, Olive Leaf Ext (Australia), Peppermint Ext (Australia), Thyme Ext (Australia), Niaouli Ext, Rose Geranium Ext (Kenya), Polysorbate 20 (from corn syrup) Radish Root Ferment, Sambucus Nigra (Elderberry), Gluconolactone (found naturally in fruit), Sodium Benzoate and Potassium Sorbate (both food preservatives) Citric Acid, Tumeric, Chlorophyll, *Cl 42090
Green denotes the nutritive, active herbal ingredients. These are either certified organic or wild grown. We freshly make all our plant extracts. We don't buy commercial liquid 'plant extracts' or commercial lifeless dried and powdered herbs to make extracts.
*Please note: approved colour is used at 0.00015mg per 125ml bottle. The scientifically recognised ingestion limit is 4.2mg per day. No published reliable studies have ever shown concerns around these ingredients. Corn chips, sports drinks, tattoo ink and gummy bears contain significant quantities of these substances which are either ingested or absorbed. 
Ideal for Combination/Dry, Oily and Breakout Skin (including with surface dryness):
Plant Gel Cleanser(Comb Oily Skin) 30mLOne Step Exfoliating Cleanser 20gHydrating Floral Toning Lotion30mLSage Face Oil20mLOil Controlled Day Creme20gLemon Night Creme 20g
True to the Simplicité range these Trial Pack products are natural and organic—but they're also highly effective.These combinations of freshly extracted, medicinal grade plant extracts and thoughtful formulas for skin types will leave your skin feeling good and wanting more.
"Best start pack I have ever used! Best thing is you have a sample pack to try that lasts for 1 month approximately and actually works. This little pack changed my life."