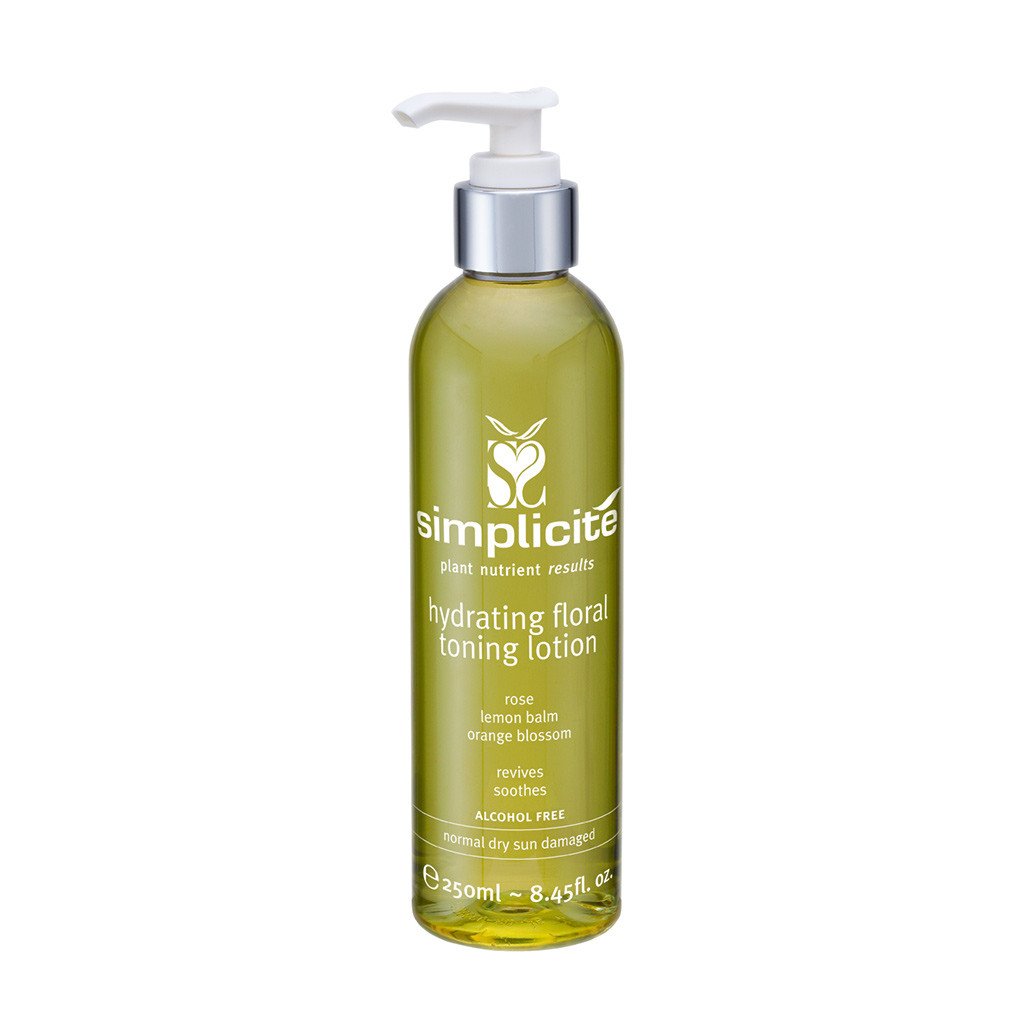 HYDRATING FLORAL TONING LOTION NORMAL/DRY 250ML
A facial toning spray formulated for normal and dry skin. Infused with extracts of fresh herbs and flowers to  hydrate, calm and refresh, it contains natural saponins that help with absorption of nutrients in Simplicité Face Oils and the Serum concentrates.  
"These toners are a must to use with face oils and serums - you will notice how your skin seems to 'drink' them up…. simply magic."
See more Reviews below.
Features
Rose Petals - fresh extract reduces inflammation, tones visible surface blood vessels. 
Lemon Balm

 

– calms, soothes and firms skin.
Orange Blossom

 

– tones complexion, helps reduce fine lines and wrinkles. 
and nine other freshly extracted, medicinal grade herbs and plants.
Benefits
Gives a weightless silky feel and noticeable radiance boost. 
Has an intoxicating subtle floral scent that doesn't linger.
Alcohol-free formula is non-drying plus ideal for sensitive skin.
How to Use 
After Precleansing/cleansing, pump lotion onto a cotton pad and wipe over face, neck and décolletage.

Or refill empty 30ml or 125ml atomisers and use as directed.
Ingredients
Purified water, Fresh Chamomile Flower Extract (Egypt), Fresh Lemon Balm Leaf Extract (Australia), Fresh Alfalfa Ext (Australia), Fresh Heartsease Ext, Fresh Olive Leaf Ext (Australia), Fresh Elderflower Ext (Germany), Fresh Rose Petal Ext (Australia), Rose Geranium Ext (Kenya), Sweet Orange Ext (USA) Orange Blossom Ext (Italy),Polysorbate 20 (from corn syrup), Radish Root ferment, Sambucus Nigra (Elderberry) fruit extract, Gluconolactone (found naturally in fruit) Sodium Benzoate and Potassium Sorbate (both food preservatives) Turmeric, Citric Acid, *Cl19140
Green denotes the nutritive, active herbal ingredients. These are either certified organic or wild grown. We freshly make all our plant extracts. We don't buy commercial liquid 'plant extracts' or commercial lifeless dried and powdered herbs to make extracts.
*Please note: approved colour is used at 0.00015mg per 125ml bottle. The scientifically recognised ingestion limit is 4.2mg per day. No published reliable studies have ever shown concerns around these ingredients. Corn chips, sports drinks, tattoo ink and gummy bears contain significant quantities of these substances which are either ingested or absorbed. 
Ideal for Combination/Dry, Oily and Breakout Skin (including with surface dryness):
Plant Gel Cleanser(Comb Oily Skin) 30mLOne Step Exfoliating Cleanser 20gHydrating Floral Toning Lotion30mLSage Face Oil20mLOil Controlled Day Creme20gLemon Night Creme 20g
True to the Simplicité range these Trial Pack products are natural and organic—but they're also highly effective.These combinations of freshly extracted, medicinal grade plant extracts and thoughtful formulas for skin types will leave your skin feeling good and wanting more.
"Best start pack I have ever used! Best thing is you have a sample pack to try that lasts for 1 month approximately and actually works. This little pack changed my life."