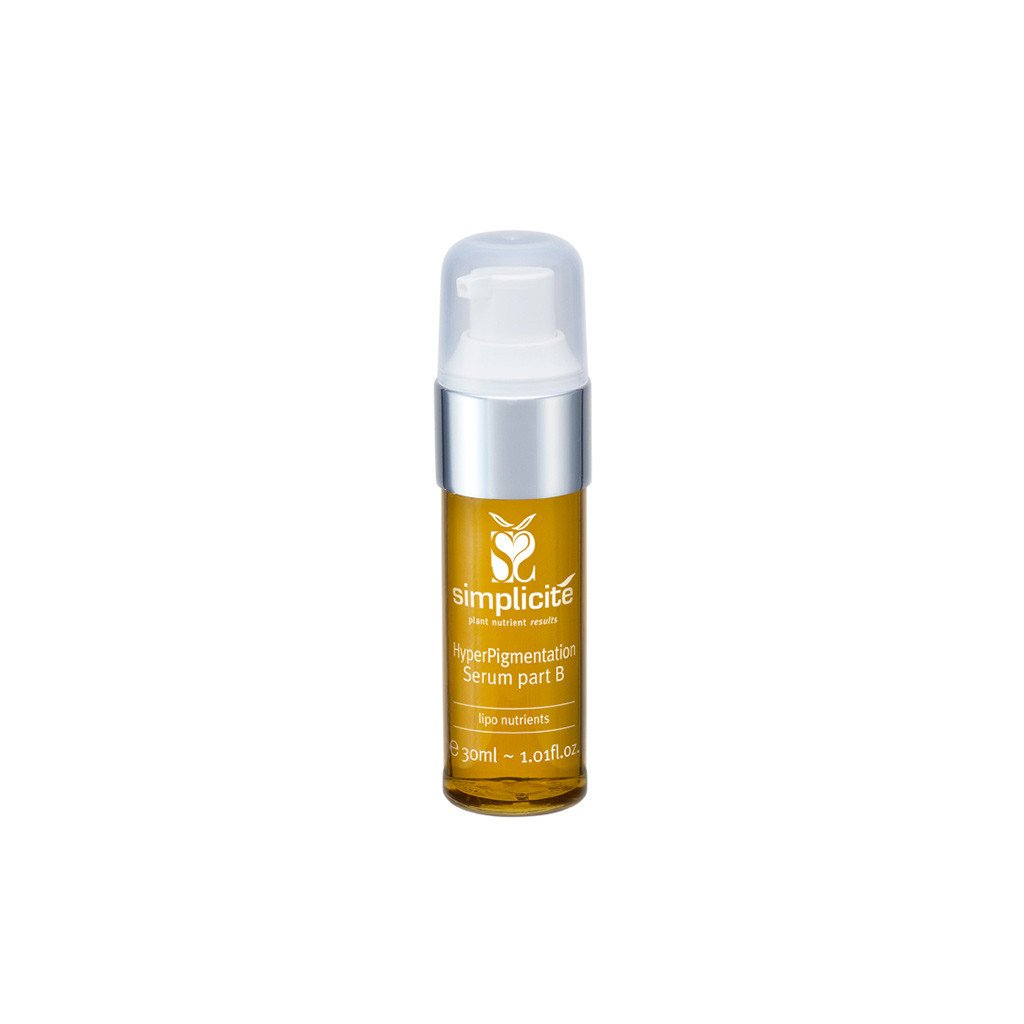 HYPER-PIGMENTATION SERUM B (USE WITH PART A)
Using this two-part serum together helps to brighten skin and give it a luminous appearance. Improves appearance of hyperpigmentation.
30mL
Features
Niaouli -

 

reduces post inflammatory hyperpigmentation.

Celery Seed -

 

enhances the breakdown of excess melanin.

Rosehip Oil - retards signs of premature ageing and reduces 'age spots'. 
How to Use
Mix 1-2 pumps each of Serum A and Serum B in hand with a spray of Toning Lotion.

Rub hands together and massage the serums over face, neck and décolletage.

Use A.M. and P.M. for best results.
Ingredients
Hypericum Extract, Grapefruit Ext, Lemon Ext, Niaouli Ext (Madagascar), Celery Seed Ext, Carrot Seed Ext (Australia), Pumpkin Seed Ext (Australia), Hazelnut, Rosehip Oil (Chile), Avocado (Australia), Almond Ext (Australia), Wheatgerm Ext (USA)

Green denotes nutritive, active herbal ingredients. These are either certified organic or wild-grown. Preservative free. Naturally stable for three years due to high antioxidant levels and a caring passion for what we make. 
Ideal for Combination/Dry, Oily and Breakout Skin (including with surface dryness):
Plant Gel Cleanser(Comb Oily Skin) 30mLOne Step Exfoliating Cleanser 20gHydrating Floral Toning Lotion30mLSage Face Oil20mLOil Controlled Day Creme20gLemon Night Creme 20g
True to the Simplicité range these Trial Pack products are natural and organic—but they're also highly effective.These combinations of freshly extracted, medicinal grade plant extracts and thoughtful formulas for skin types will leave your skin feeling good and wanting more.
"Best start pack I have ever used! Best thing is you have a sample pack to try that lasts for 1 month approximately and actually works. This little pack changed my life."