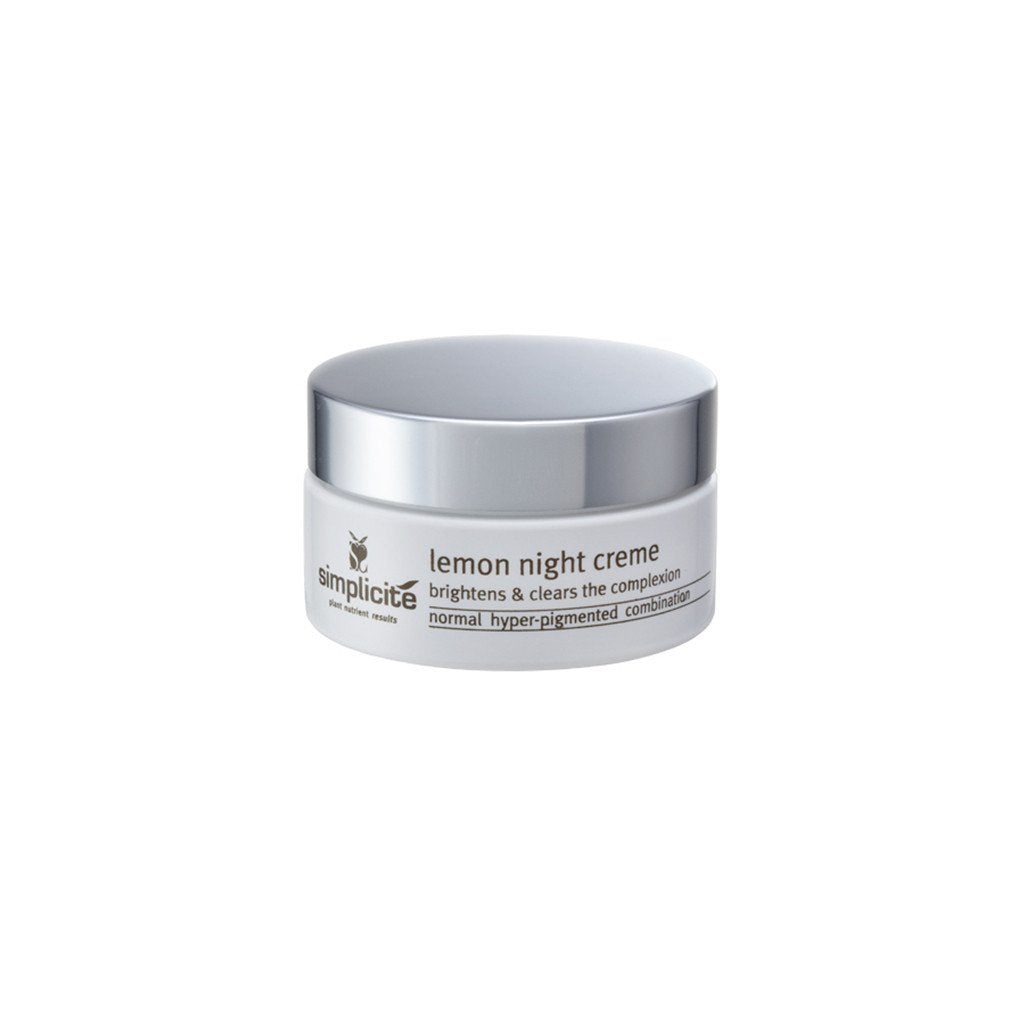 Lemon Night Creme is a nourishing and luxurious feeling night moisturiser that is formulated to be equally beneficial for all skin types. Regular use helps with hyperpigmentation problems.
"This is my favourite Simplicité product. I have slightly oily skin but it never feels heavy or greasy despite this being a very nourishing cream."
Read more reviews below.
55g
Features
Lemon - clarifies the complexion.

Grapefruit

 - improves the appearance of breakouts and acne and helps to clear congested pores. 

Pumpkin Seed

 - contains anti-ageing antioxidants that soothe, clear and restore skin.
Benefits
Softens and smooths.

Gives skin a healthy fresh glow.
Gives anti-ageing benefits for all skin types.
How to Use
After cleansing and applying Face Oil warm a little Lemon Night Creme between fingertips and massage gently over face, neck and décolletage.
Ingredients
Purified Water, Soya Bean Glycerine, Caprylic/Capric Triglyceride (sustainable coconut source), Glyceryl Stearate (sustainable palm source), Almond Extract (Australia), Ceteareth 20 (white of coconut source), Avocado Extract (Australia), Lemon Extract (Australia), Grapefruit Ext (USA), Lemongrass Ext (India), Cedarwood Ext (Morocco), Clary Sage Ext, Pumpkin Seed Ext, Sesame Ext, Carrot Ext (Australia), Rose Geranium Ext (Kenya), Natural Vitamin E, Linseed Ext, Petitgrain Ext (Italy), Marjoram Ext (Spain), Calendula Ext (Australia), Bergamot Ext (Italy), Sweet Orange Ext (USA), Sage Ext (Spain), Peppermint Ext, Radish Root Ferment, Sambucus Nigra Fruit Ext, Gluconolactone (found naturally in fruit), Sodium Benzoate and Potassium Sorbate (both food preservatives)
Green denotes the nutritive, active herbal ingredients. These are either certified organic or wild grown. We freshly make all our plant extracts. We don't buy commercial liquid 'plant extracts' or commercial lifeless dried and powdered herbs to make extracts.
Ideal for Combination/Dry, Oily and Breakout Skin (including with surface dryness):
Plant Gel Cleanser(Comb Oily Skin) 30mLOne Step Exfoliating Cleanser 20gHydrating Floral Toning Lotion30mLSage Face Oil20mLOil Controlled Day Creme20gLemon Night Creme 20g
True to the Simplicité range these Trial Pack products are natural and organic—but they're also highly effective.These combinations of freshly extracted, medicinal grade plant extracts and thoughtful formulas for skin types will leave your skin feeling good and wanting more.
"Best start pack I have ever used! Best thing is you have a sample pack to try that lasts for 1 month approximately and actually works. This little pack changed my life."