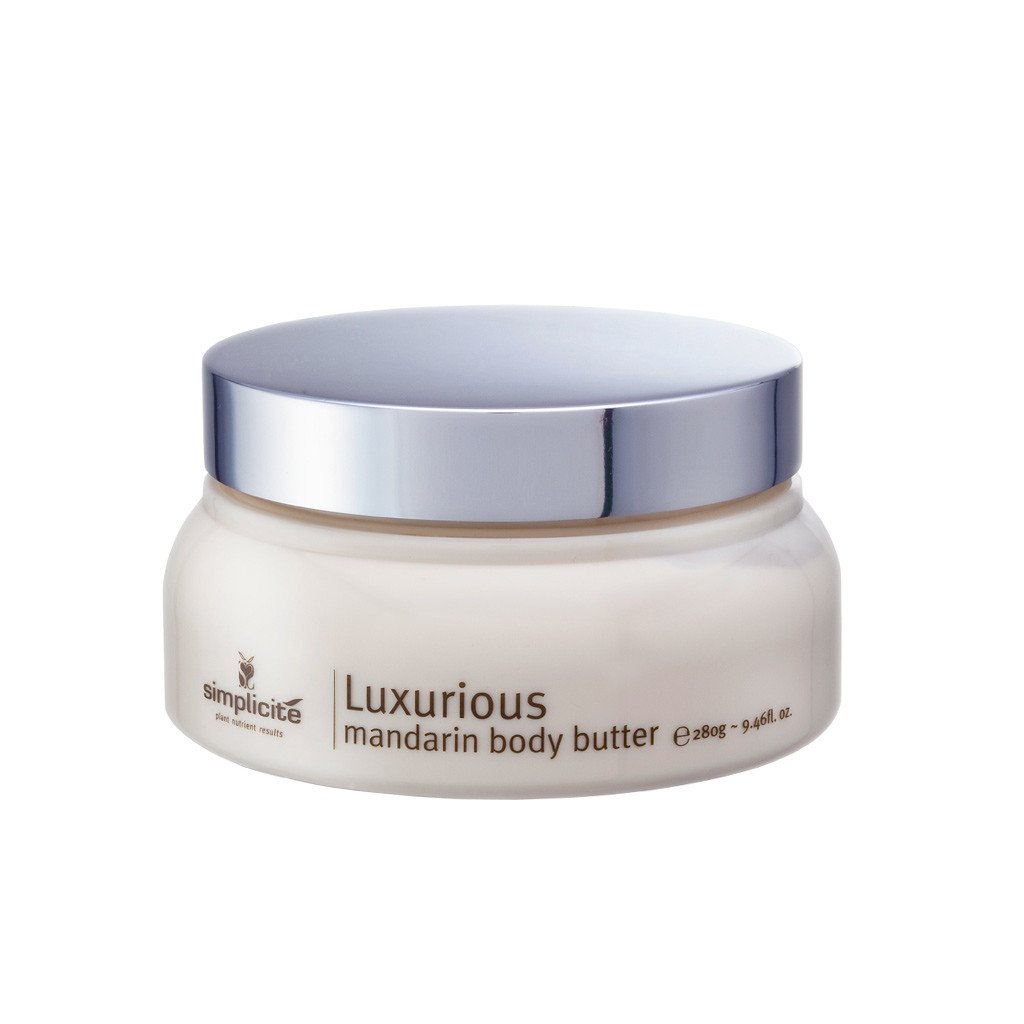 LUXURIOUS MANDARIN BODY BUTTER
This is not your average body butter. Our Luxurious Mandarin Body Butter has been formulated using freshly extracted, medicinal grade plant extracts to deeply moisturise and tone. It's a rich, emollient yet non-greasy cream that protects skin and encourages a healthy, natural glow.

"I'm amazed by the effectiveness of the Mandarin Body Butter. I have had very dry skin on my body all my life. The Mandarin Body Butter is the first product I've used that's moisturising enough on its own, without having to layer oil beneath it, or reapply multiple times a day."
(Read more reviews below.)
280g
Not Vegan - contains Australian Beeswax
 Features
Mandarin - firms skin and restores loss of tone, has specific action against sun damage
Cocoa Butter – softens and deeply moisturises. Our very high quality extract melts into the skin at body temperature to protect and soothe.
Jojoba – through its nutritive properties gives suppleness, tone and texture.
Benefits
Protects skin and encourages a healthy natural glow.
Non-greasy with a delicious, fresh aroma.
Helps eczema, psoriasis, keritosis pilaris (known as 'chicken skin') when in combination with Macadamia Body Scrub. 
How to Use
Apply after the bath, showering, swimming.

To help extra dry skin use the Macadamia Body Scrub regularly and apply a Simplicité Body Oil(use with wet hands for best results) before the Body Butter.

Scoop Body Butter out of jar with fingers and massage into skin as often as required.
Ingredients
Jojoba Extract (Argentina), Beeswax (Australia), Olive Oil (Australia), Cocoa Butter (Australia), Shea Butter Ext (Australia), Almond Ext (Australia, Sorbitan Stearate, Polysorbate 60, Calendula Ext (Australia, Wheatgerm Ext (Australia, Carrot Ext (Australia), Mandarin Ext (Australia), Marjoram, May Chang (Litsea) Ext (China), Petitgrain Ext (Italy), Niaouli Ext (Madagascar), Natural Vitamin E, Xanthan Gum(from Corn), Gluconolactone (from Corn)
Green denotes the nutritive, active herbal ingredients. These are either certified organic or wild grown. We freshly make all plant extracts in our laboratory. 
As herbalists and naturopaths we don't buy commercial liquid plant extracts or make our extracts from commercially produced, lifeless, dried powdered herbs.
Ideal for Combination/Dry, Oily and Breakout Skin (including with surface dryness):
Plant Gel Cleanser(Comb Oily Skin) 30mLOne Step Exfoliating Cleanser 20gHydrating Floral Toning Lotion30mLSage Face Oil20mLOil Controlled Day Creme20gLemon Night Creme 20g
True to the Simplicité range these Trial Pack products are natural and organic—but they're also highly effective.These combinations of freshly extracted, medicinal grade plant extracts and thoughtful formulas for skin types will leave your skin feeling good and wanting more.
"Best start pack I have ever used! Best thing is you have a sample pack to try that lasts for 1 month approximately and actually works. This little pack changed my life."