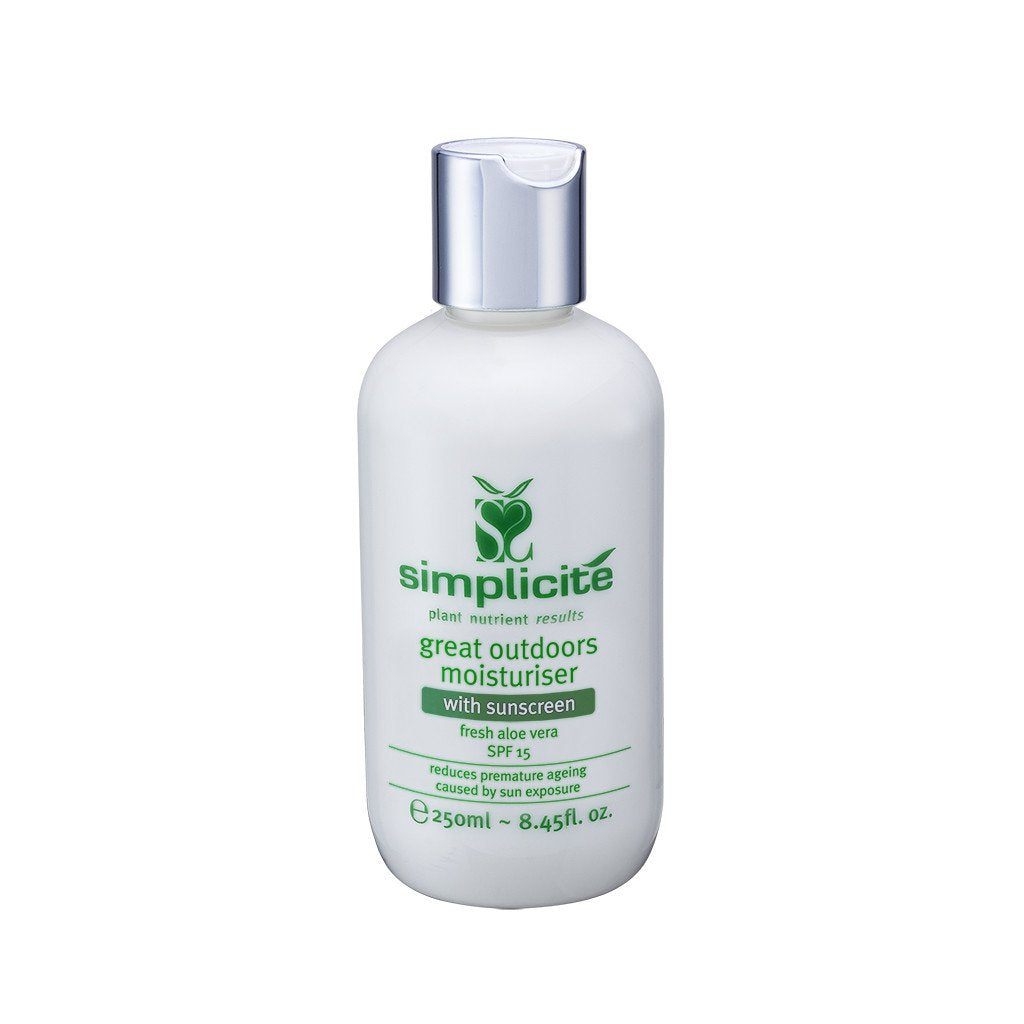 MOISTURISER WITH SUNSCREEN SPF15 FOR FACE AND BODY 250ML
Our premium moisturiser-meets-sunscreen gives effective sun protection as well as nurturing skin. It is sensational for sensitive skin and won't clog pores.
Will not cause the common sunscreen issues of congestion, sensitivity, hyperpigmentation and early ageing - because 17 concentrated 'medicinal grade' plant, flower and herb extracts 'buffer' the three TGA-approved sunscreening ingredients.

Does not contain PABA, mineral oil, or nano particles.
Features

Calendula and

 Hypericum

 

-

 

stimulate the skin's own immunity to resist sun damage,  reduces skin sensitivity.
Avocado

 

and

 

Sesame

 

- aid in the sunscreening factor, so lowering the levels of chemical agents needed in the formula. Nutrient rich, enhance deep moisture levels.
Chamomile

 

– more soothing to irritated skin conditions than hydrocortisone and 70% as anti-inflammatory. Improves the tone of the skin. Acts as an analgesic to soothe allergies as well as eczema, dermatitis - and surfboard rashes.
Benefits
Effective sunscreening plus moisturising benefits.
Beneficial for all skin types and ages.
Non-greasy, will not congest the pores.
Absolutely beautiful to use - also ideal for babies and children.
Doesn't irritate skin.
Nurtures skin while protecting it from sun.
Why use an SPF 15 rather than SPF 30 or SPF 50?
SPF 15 is the ideal SPF for most sun exposure situations without the double chemical load (sunscreening chemicals) of SPF 30 and above.
SPF 15 gives similar sun protection as 'higher' SPFs when applied every two hours - as all sunscreens must be.
How to Use 
Apply liberally 15 minutes or more prior to sun exposure and reapply every 2 hours or sooner if swimming. Avoid sun exposure between 11am and 2pm. Always wear a hat, effective sunglasses and protective clothing where possible.

Apply again after swimming.

Perfect for even the most sensitive skin.

Safe to apply to infants and young children.
SPF Facts
You may think if the SPF is 'higher' then your sun protection will equivalently rise too. However that isn't the case. While an SPF 15 will block around 93 percent of UVB rays, doubling the SPF to 30 will block 97 percent; SPF50 blocks 98%. That's just a 4 or 5 percent increase – for what would appear to be double the dose or more. 
Dermatologists and the Cancer Council say there is no real difference between using an SPF 15 or 30 and using SPF 50 or higher.
SPF levels are also a gauge of how long it takes to become sunburned compared to how long it takes to burn without wearing sunscreen. If you generally take 20 minutes to burn, an SPF 15 should allow you to go 300 minutes before burning. However it is not all recommended nor is it safe to go 300 minutes in the sun before putting on more sunscreen. Ever.
Generally an SPF 15 is sufficient, especially if it can be worn when swimming. For maximum protection against prolonged exposure to the sun it is highly recommended to also wear protective clothing, a hat and effective sunglasses. 
Remember, all sunscreens must be reapplied every two hours regardless of SPF.
Ingredients
Purified Water, Octylmethoxycinnamate (organic compound UVB absorber), Isopropyl Myristate, Soya Bean Glycerin, Benzophenone-3 (organic UVA & UVB absorber), Glyceryl stearate (sustainable palm source), freshly extracted organic Aloe barbadensis juice from Qld (not the usual reconstituted powder from China), Potassium Cetyl Phosphate, Eicosene Copolymer (water resistant compound), Cetostearyl alcohol (white of coconut source), fresh, medicinal-grade herbal extract of Calendula flowers, Chickweed Ext, Marshmallow, Extract of Australian bushflowers (Southern Cross, Wattle, Paw Paw, Kapok Bush, Banksia, Mulla Mulla), Calendula infused oil (Aust), Sesame oil (West Africa), Avocado oil (Aust), Jojoba oil (Argentina), Leuconstoc (Radish root ferment)  Avobenzone (UVAabsorber), essential oils of Rose Geranium (Kenya), Chamomile (Fr), Lemongrass (India), PhytoCide (Sambucus nigra Elderberry fruit ext), D-Panthenol ,Gluconolactone (found naturally in fruit),Carbopol (thickener), Dimethicone, Sodium hydroxide (used in ramen noodles)
Standard sunscreen advice: avoid applying to children under 2 years of age. Keep very young children out of strong sunlight.
Our ingredient choices: Simplicité Moisturiser with Sunscreen contains approved sunscreening agents along with significant amounts of nutritive, healing, anti-toxin, soothing plant extracts to balance the formula. Sunscreening ingredients in this product have been approved by senior government scientists in the European Union, the USA, Australia, Canada, and Japan. They make their decisions after reviewing every known study. These scientists don't refer to internet articles to make their decisions. Neither is Simplicité swayed by internet conjecture, or out of context articles on certain 'organic' websites.
Green denotes the nutritive, active herbal ingredients. These are either certified organic or wild grown. We freshly make all our plant extracts. We don't buy commercial liquid 'plant extracts' or commercial lifeless dried and powdered herbs to make extracts.

Ideal for Combination/Dry, Oily and Breakout Skin (including with surface dryness):
Plant Gel Cleanser(Comb Oily Skin) 30mLOne Step Exfoliating Cleanser 20gHydrating Floral Toning Lotion30mLSage Face Oil20mLOil Controlled Day Creme20gLemon Night Creme 20g
True to the Simplicité range these Trial Pack products are natural and organic—but they're also highly effective.These combinations of freshly extracted, medicinal grade plant extracts and thoughtful formulas for skin types will leave your skin feeling good and wanting more.
"Best start pack I have ever used! Best thing is you have a sample pack to try that lasts for 1 month approximately and actually works. This little pack changed my life."