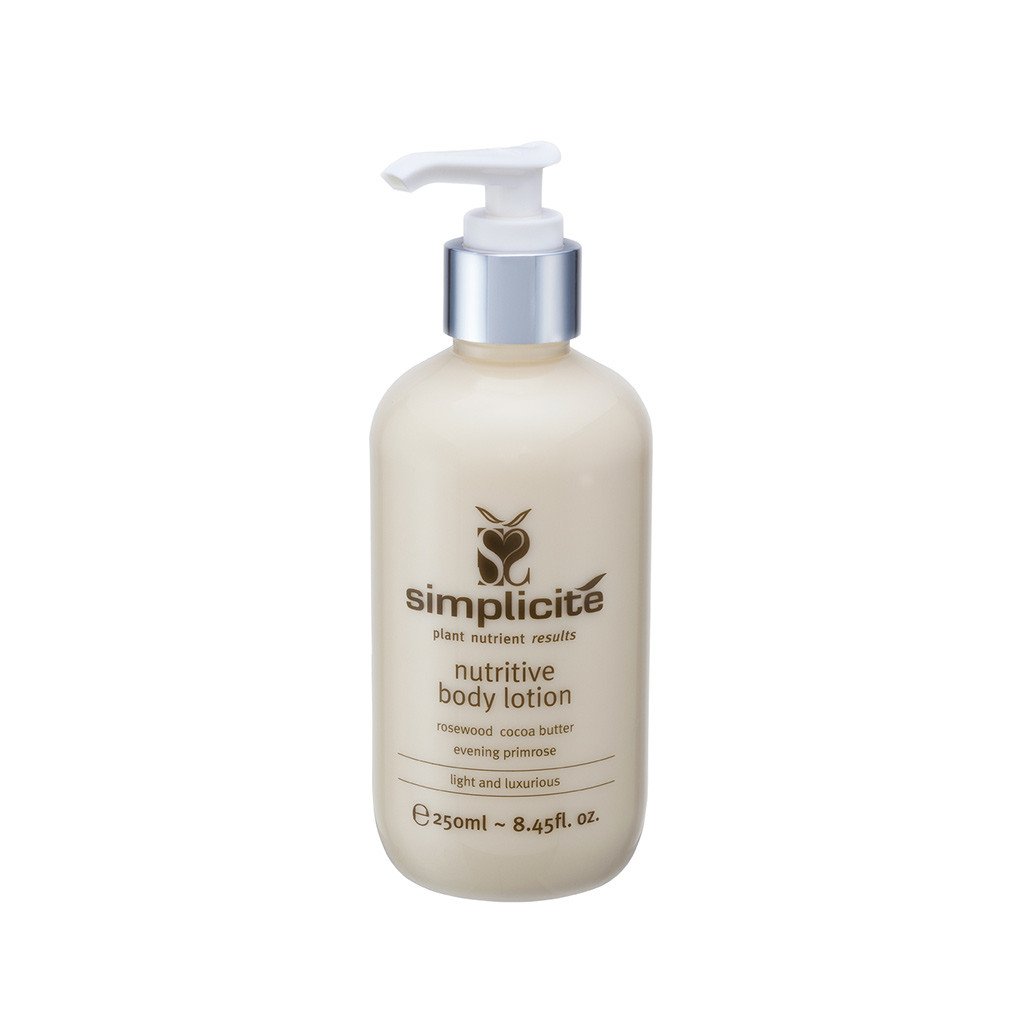 An all natural body lotion that's perfect for all skin types. It nurtures the skin so effectively that it easily overcomes sun damage, sunburn, dry and irritated skin, even prevents radiation burns from cancer treatment. This natural body lotion is made with certified organic ingredients, but only those that have been personally selected for their highest quality and activity and then freshly extracted by hand.
Fresh, concentrated plant extracts are unique to Simplicité—it's why this natural body lotion feels so deliciously light and luxurious and absorbs so easily into the skin. Delight in the sensuous feel as the body lotion softens the skin and helps it to look and feel younger. The beautiful natural and subtle fragrance (lemon with an undertone of rosewood) is due only to the certified organic plant extract ingredients used – no added fragrance is ever used in Simplicité products.
250mL
Features
Aloe Vera juice (freshly squeezed)

 - calms irritations, improves appearance of damaged skin

Carrot

 

- used in the treatment of rashes including dermatitis and eczema.

Clary Sage

 

- calms redness, soothes and moisturises.
How to Use
Apply at least twice daily to areas of irritation and dryness.

Apply at least twice daily to prevent radiation burns from cancer treatment.

To treat sunburn, apply frequently to affected areas to lessen redness and discomfort.
Ingredients
Purified Water, Capric/Caprylic Triglyceride (from plant source), Apricot Kernel Extract (Australia),Sweet Almond Extract (Australia), Cocoa Butter (Venezuela), Glyceryl Monostearate (from plant source), freshly extracted organic Aloe Barbadensis juice from Qld (not the usual lifeless powder from China), Avocado Ext (Australia), Jojoba Ext (Argentina), Sesame Ext (Burkina Faso), Lemon Extract (Australia), Rosewood/Ho Wood Ext (Vietnam), Evening Primrose Ext (USA), Carrot Ext (Australia), Sage Extract (Spain), Hyssop Ext (Bulgaria), Clary Sage Ext (France), Natural Vitamin E, Gluconolactone (found naturally in fruit)  

Green denotes the nutritive, active herbal ingredients. These are either certified organic or wild grown. We freshly make all plant extracts in our laboratory. 
As herbalists and naturopaths we don't buy commercial liquid plant extracts or make our extracts from commercially produced, lifeless, dried powdered herbs.
Ideal for Combination/Dry, Oily and Breakout Skin (including with surface dryness):
Plant Gel Cleanser(Comb Oily Skin) 30mLOne Step Exfoliating Cleanser 20gHydrating Floral Toning Lotion30mLSage Face Oil20mLOil Controlled Day Creme20gLemon Night Creme 20g
True to the Simplicité range these Trial Pack products are natural and organic—but they're also highly effective.These combinations of freshly extracted, medicinal grade plant extracts and thoughtful formulas for skin types will leave your skin feeling good and wanting more.
"Best start pack I have ever used! Best thing is you have a sample pack to try that lasts for 1 month approximately and actually works. This little pack changed my life."