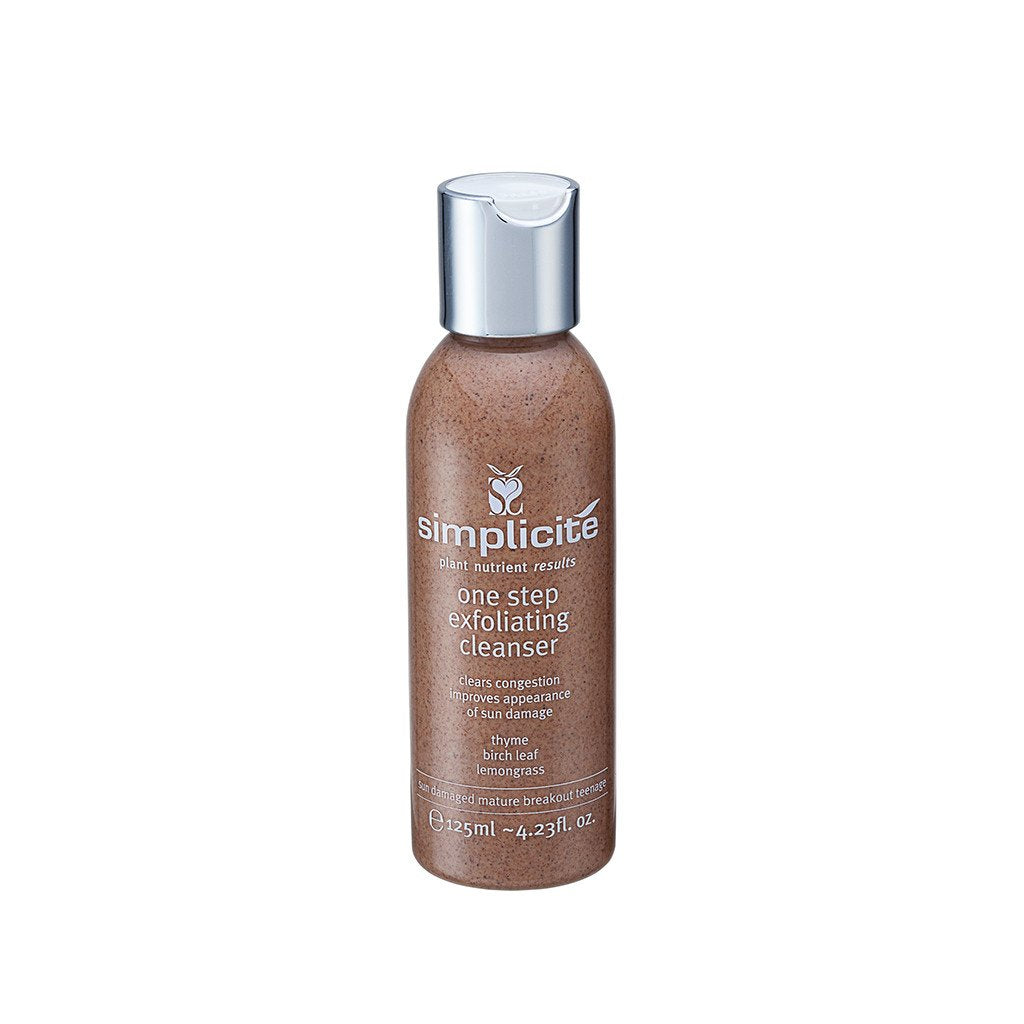 ONE STEP EXFOLIATING CLEANSER
A gentle, nutrient-rich exfoliator that in 'one step' cleanses pores and reduces dead cell buildup. It also brightens skin, lessens acne and acne scarring plus minimises early skin cancers. 
See How to use VIDEO below.
"My chin was very congested...I was really pleased to read that this exfoliant is gentle on sensitive skin and wouldn't do any damage. I have been using it with great results...congestion is clearing...skin is feeling smooth and soft."
See more reviews below.
125mL
Features
Birch Leaf

 

- contains skin firming gentle cleansers and nutritive flavonoids that repair the appearance of pores.

Thyme

 

- calms redness, is locally anti-bacterial and promotes healing.

Lemongrass

 

- refreshes complexion, contributes to overall healthy appearance of skin.
Benefits
Reduces keratin build up to smooth and clear skin.
Helps clear breakouts, removes blackheads.
Very high antioxidant levels (16 times more than the equivalent amount of crushed blueberries) allows One Step to:
Firm, brighten, repair sun damage, rejuvenate tired looking skin.
Will not microscopically cut or scratch skin as many 'physical' exfoliators do.
How to Use
Use in shower every evening after cleansing–it is 

best to cleanse pores at the end of the day, especially after wearing makeup.
Mix one teaspoon between fingers and massage gently over damp skin for 30 - 60 seconds. Wash off. 
Cleanser and One Step Exfoliating Cleanser may be combined and used together if time poor.
WATCH VIDEO
Ingredients
Purified Water, Cinnamon Powder (Sri Lanka), Almond Oil (Australia), Cocobetaine (from Coconut), Avocado Extract (Aust), Cole Seed Extract, Cocos nucifera glycerides (from plant source), fresh herbal extracts of Violet Leaf (Aust), Thyme (Aust), Birch Leaf (Aust), fresh herbal extract of Witch Hazel (USA) (not the clear, alcohol-based version), Rosemary Ext (Tunisia), Grapefruit Ext (USA),  Lavender Ext (France), Lemongrass Ext (India), Leucidal (Radish Root) Ferment, PhytoCide (Sambucus Nigra – Elderberry) Fruit extract, Gluconolactone (found naturally in fruit), Sodium Benzoate and Potassium Sorbate (both food preservatives)
Green denotes the nutritive, active herbal ingredients. These are either certified organic, or wild grown. All plant extracts are freshly made in our laboratory. 
Ideal for Combination/Dry, Oily and Breakout Skin (including with surface dryness):
Plant Gel Cleanser(Comb Oily Skin) 30mLOne Step Exfoliating Cleanser 20gHydrating Floral Toning Lotion30mLSage Face Oil20mLOil Controlled Day Creme20gLemon Night Creme 20g
True to the Simplicité range these Trial Pack products are natural and organic—but they're also highly effective.These combinations of freshly extracted, medicinal grade plant extracts and thoughtful formulas for skin types will leave your skin feeling good and wanting more.
"Best start pack I have ever used! Best thing is you have a sample pack to try that lasts for 1 month approximately and actually works. This little pack changed my life."