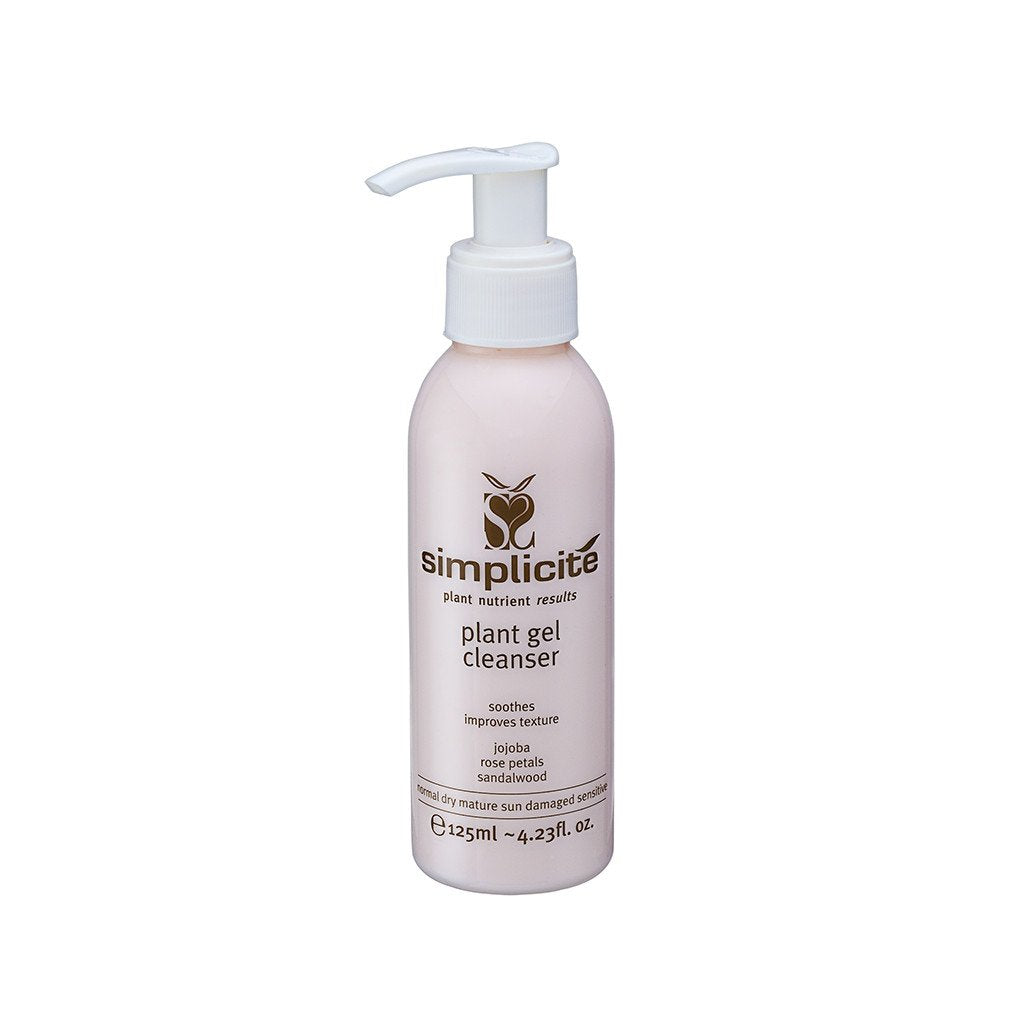 PLANT GEL CLEANSER NORMAL/DRY 125ML
Formulated for normal and dry skin, this silky combination of lightly foaming and creme cleansers gives a clean fresh feel without stripping moisture. Natural and organic, but above all highest quality, Plant Gel Cleanser's blend of nine fresh plant extracts is a delight to use while also efficiently cleansing and gently rehydrating skin.
Features
Jojoba

 

– softens the complexion.

Fresh Rose Petal extract

 

– improves dry skin, reduces the appearance of wrinkles, calms skin irritations.
Sandalwood

 

- promotes tissue regeneration, is a powerful anti-inflammatory
Benefits
Cleanses without depleting skin's natural oils.

Hydrates, soothes and improves skin texture
Removes non waterproof eye makeup without stinging.
Leaves skin feeling soft and supple.
How to Use
Twice daily, massage a pump or two of Plant Gel Cleanser over face, neck and upper chest. A little goes a long way. Wash off with tepid water.  
Advice
Precleanse heavier makeup with our Face Oil. There's no need to use Plant Gel Cleanser with a mechanical brush but if you choose to do so they work together perfectly.
After cleansing skin at night, use One Step Exfoliating Cleanser to cleanse pores - or mix together and apply.
Men—for a shave that doesn't irritate skin or cause ingrown hairs, we recommend cleansing, then shaving with this gentle and effective product.
WATCH VIDEO
 Ingredients
Purified Water, freshly extracted Aloe Barbadensis juice from Qld (not the usual lifeless powder from China), Australian Sweet Almond Ext, Fresh Rose Petal Ext, Sodium Laureth Sulfate (from coconut not petrochemicals), Soya Bean Glycerin, Xantham Gum (from corn), Jojoba Ext (Argentina), Cocamide DEA (From Coconut) and the finest extracts of Palmarosa (India), Rose Geranium (Kenya), Chamomile (France), Evening Primrose, West Australian Sandalwood, Natural Vitamin E, Radish Root Ferment, Sambucus Nigra Fruit Ext, Gluconolactone (found naturally in fruit), Sodium Benzoate and Potassium Sorbate (both food preservatives), Glyceryl Caprylate (from coconut), Citric Acid (produced from molasses), Sodium Hydroxide (used in ramen noodles), CI 16035*, Betacarotene
Green denotes the nutritive, active herbal ingredients. These are either certified organic or wild grown. All plant extracts are freshly made in our laboratory. 
*Please note: approved colours are used at 0.00015mg per 125ml bottle. The scientifically recognised ingestion limit is 4.2mg per day. No published reliable studies have ever shown concerns around these ingredients. Corn chips, sports drinks, tattoo ink and gummy bears contain significant quantities of these substances which are either ingested or absorbed. 
Ideal for Combination/Dry, Oily and Breakout Skin (including with surface dryness):
Plant Gel Cleanser(Comb Oily Skin) 30mLOne Step Exfoliating Cleanser 20gHydrating Floral Toning Lotion30mLSage Face Oil20mLOil Controlled Day Creme20gLemon Night Creme 20g
True to the Simplicité range these Trial Pack products are natural and organic—but they're also highly effective.These combinations of freshly extracted, medicinal grade plant extracts and thoughtful formulas for skin types will leave your skin feeling good and wanting more.
"Best start pack I have ever used! Best thing is you have a sample pack to try that lasts for 1 month approximately and actually works. This little pack changed my life."