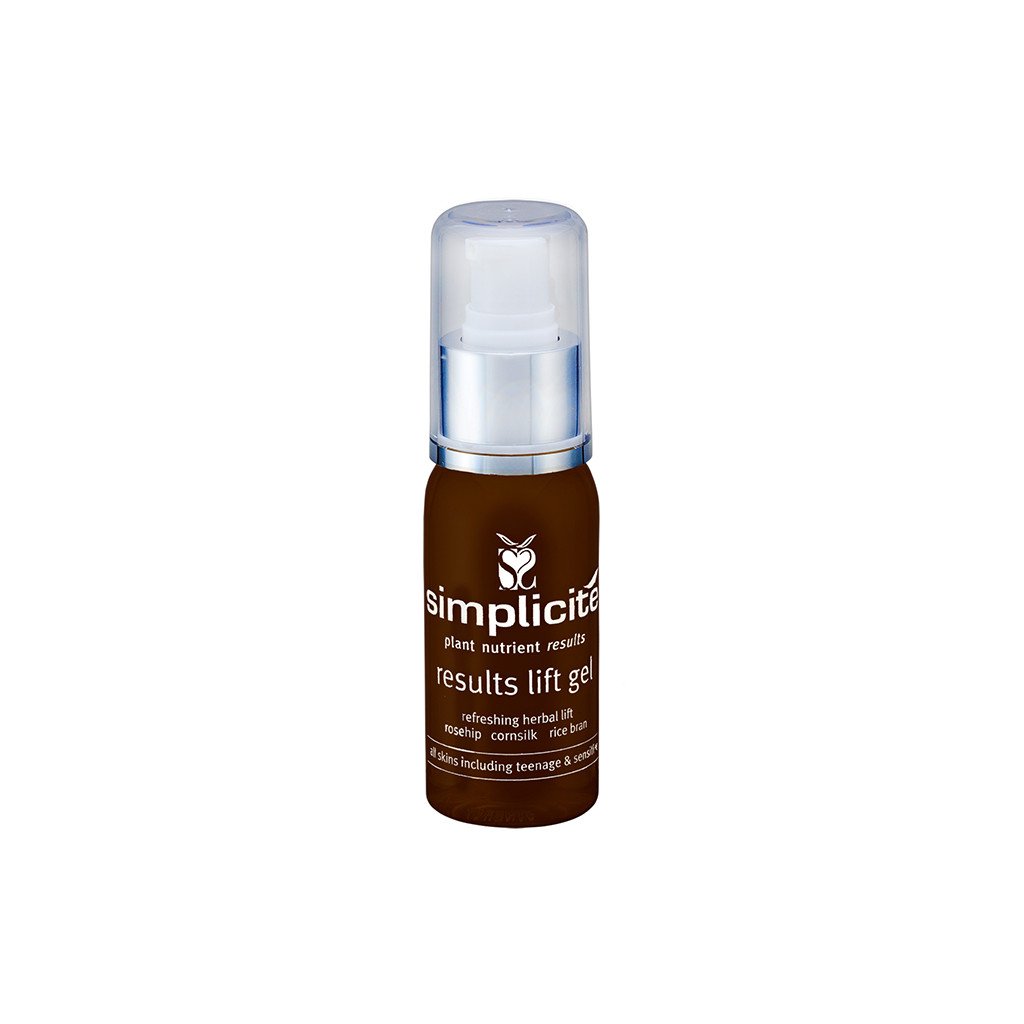 Results Lift Gel is a firming skin reviver that refreshes and brightens dull, tired skin. The lightweight, natural vitamin C treatment formula instantly hydrates, tones and gives skin a beautiful, luminous radiance.
Consider Results Lift Gel to be your ideal skin energiser—it delivers an immediate 'lift' along with continuing long term improvement to tone, texture and firmness.
"It gives me such a beautiful glow! It is uplifting, refreshing, firming, and results are instant!"
Read more reviews below.
55mL
Features
Rosehip husk

– our own fresh herbal extract yields the highest natural source of bio-active vitamin C and bioflavonoids. These nutrients are essential to stimulate skin's production of anti-ageing collagen. 
Cornsilk

 

- stimulates tissue renewal.
Rice bran

 

- contains 

anti-aging anti-oxidants.
Benefits
Adds firmness and elasticity with every use.
Gives a revitalising 'lift' to both skin and spirits.
How to Use 
Apply after day and night moisturiser, also as a nutritive, priming base under makeup. 
Apply

 

before Alba White Day Moisturiser (so as not to affect the physical sun protection this product contains.

Apply at any time of the day or night to revitalise skin.

Use before touching up makeup or pat gently over makeup to revive both appearance and spirits.

The more frequently Results Lift Gel is applied the more it will contribute to positive changes in skin firmness and elasticity.
Ingredients
Purified Water, Rosehip Extract (Chile), Olive Leaf Ext (Australia), Calendula Flowers Ext (Australia), Cornsilk Ext (Australia), Xantham Gum (from corn), Octyl Palmitate (sustainable palm source), Panthenol, Rice Bran Ext (Japan), Mandarin Ext (Australia), Cajeput Ext (Indonesia), Petitgrain Ext (Italy), Fennel Ext, Benzoin Styrax Ext (Indonesia), Lemongrass Ext (India), Cetearyl alcohol (white of coconut source), Polysorbate 20 (from plant source), Radish Root Ferment, Sambucus Nigra Fruit Ext, Gluconolactone (found naturally in fruit), Sodium Benzoate and Potassium Sorbate (both food preservatives)
Green denotes the nutritive, active herbal ingredients. These are either certified organic or wild grown. All plant extracts are freshly made in our laboratory. 
Ideal for Combination/Dry, Oily and Breakout Skin (including with surface dryness):
Plant Gel Cleanser(Comb Oily Skin) 30mLOne Step Exfoliating Cleanser 20gHydrating Floral Toning Lotion30mLSage Face Oil20mLOil Controlled Day Creme20gLemon Night Creme 20g
True to the Simplicité range these Trial Pack products are natural and organic—but they're also highly effective.These combinations of freshly extracted, medicinal grade plant extracts and thoughtful formulas for skin types will leave your skin feeling good and wanting more.
"Best start pack I have ever used! Best thing is you have a sample pack to try that lasts for 1 month approximately and actually works. This little pack changed my life."