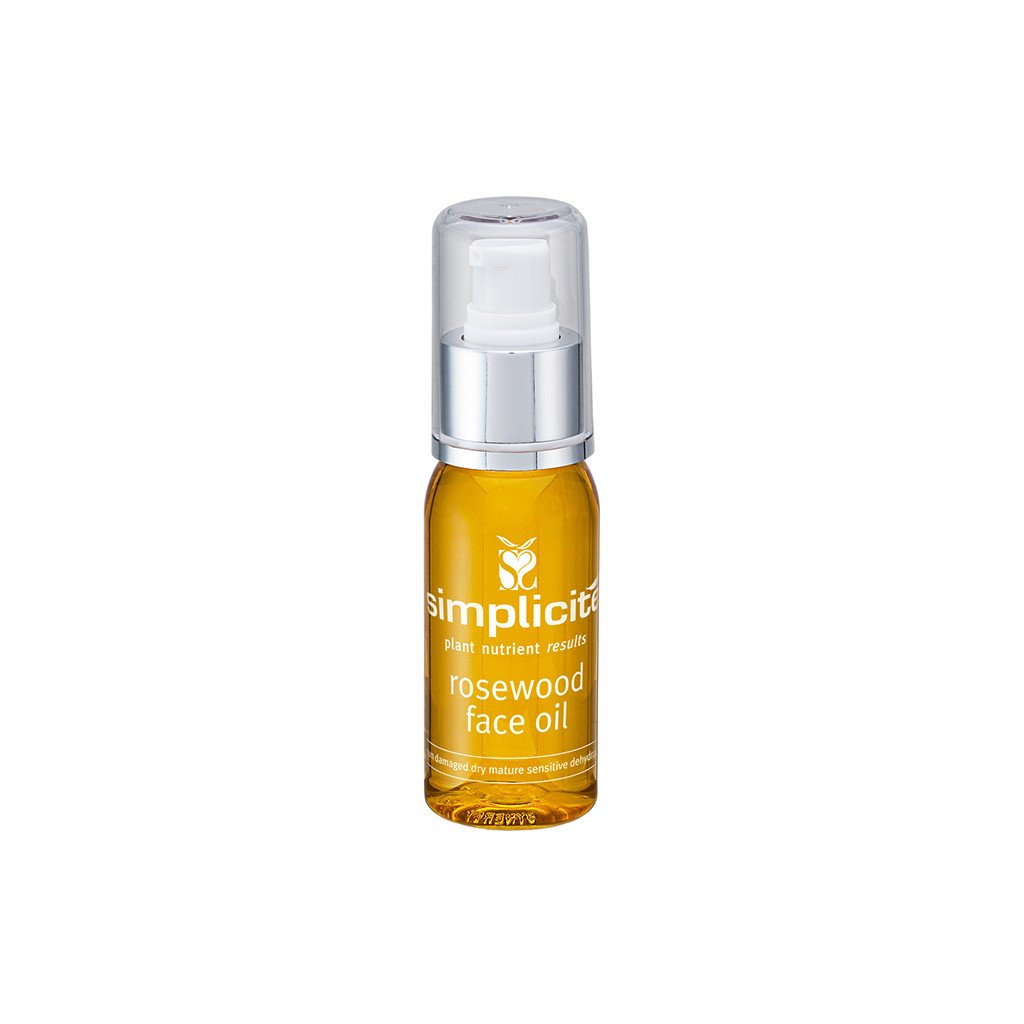 Our Rosewood Face Oil is perfect for normal, dry skin and has been especially formulated for deep rehydration of the skin. This is a luxurious and deeply rehydrating combination of fine-textured plant oils and extracts that provide essential nutrients and natural liposomes. The medicinal grade plant extracts help to reduce the appearance of sun damage and early ageing.
"I've just bought my second lot of this oil. I have very sensitive skin and there are a lot of products that make me break out. Not this stuff. Its beautiful smell lifts your spirit and leaves your skin so soft that even in the morning it still feels moisturised."
55mL
Features


Rosewood – regenerates skin, reduces sensitivity 
Wheatgerm – encourages collagen formation
Calendula – a source of pro-vitamins essential for skin firming
Benefits

Reduces sun damage and premature ageing.

Infuses the skin with pure extracts.
Revives skin, helps protect from dehydration..
Prevents skin drying out on long plane flights (use with Toning Spray)
Leaves skin feeling soft, and supple.
Regenerates and revitalises.
How to Use
With 1-2 pumps of Face Oil in one hand, close eyes and spray face with Toning Lotion. 

Rub hands together, pat oil gently over face, neck and décolletage, massage into skin.

Toning Lotion can also be sprayed into the oil in the hand.

Apply more oil in cold, dry conditions; also exfoliate a little more to aid absorption.

As long as the oil is applied as explained above it will never feel 'oily'.

If skin still feels dry, use more oil each time and exfoliate more to compensate.
Ingredients

Wheatgerm Extract (USA), Sweet Almond Extract (Australia), Calendula Ext (Australia), Patchouli Ext (Sri Lanka), Rosewood/Ho Wood Ext (Vietnam), Chamomile Ext (France), Bergamot Ext (Italy)
Green denotes nutritive, active herbal ingredients. These are either certified organic or wild-grown. Preservative free. Naturally stable for three years due to high antioxidant levels and a caring passion for what we make. 
Ideal for Combination/Dry, Oily and Breakout Skin (including with surface dryness):
Plant Gel Cleanser(Comb Oily Skin) 30mLOne Step Exfoliating Cleanser 20gHydrating Floral Toning Lotion30mLSage Face Oil20mLOil Controlled Day Creme20gLemon Night Creme 20g
True to the Simplicité range these Trial Pack products are natural and organic—but they're also highly effective.These combinations of freshly extracted, medicinal grade plant extracts and thoughtful formulas for skin types will leave your skin feeling good and wanting more.
"Best start pack I have ever used! Best thing is you have a sample pack to try that lasts for 1 month approximately and actually works. This little pack changed my life."